Facing the problem of hair loss or slow hair growth always makes women sad. Our hair increases our beauty of ours so, it becomes essential to take care of them at their best. Some vitamins and minerals are required in our diet to fight against slow hair growth. If there is a deficiency of any of the vitamins and minerals in the body, then it may seem the affect the hair too apart from the body. Let us discuss some of the listed essential vitamins and minerals for hair growth.
14 Essential Vitamins and minerals for faster Hair Growth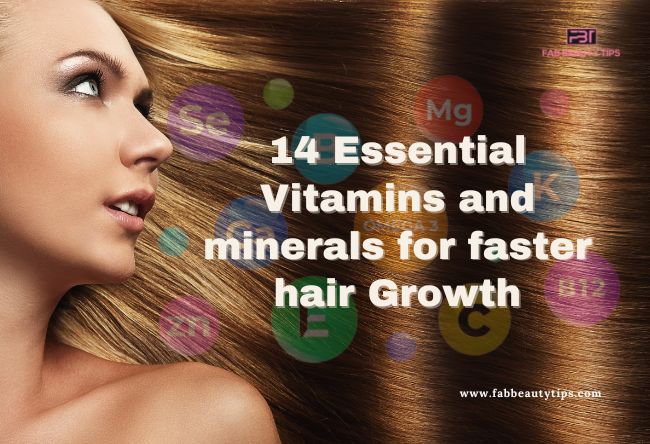 14 Essential Vitamins and minerals for faster Hair Growth
1. Vitamin A
Vitamin A is essential for growing healthy hair. It plays important role in growing the cells which in turn gives results with proper hair growth. Vitamin A helps in producing natural oils like sebum which adds shine to hair and also makes them look glossy as well. It contains antioxidants that nourish the scalp and also help with drying the hair.it also thickens the hair and thus is good for those people who are facing the problem of thinning of hair. (1)
Sweet Potatoes
Carrots
Egg Yolk
Milk
Spinach
Mangoes
2. Biotin
Biotin is one out of the 12 vitamins in the vitamin B family. It is also called a hair growth vitamin as it repairs the brittle hair and improves the health of the hair and scalp. Biotin improves the volume and thickness of the hair. It helps in the production of fatty acids in the cells and makes them grow healthier. It works with amino acids which act as building blocks of the proteins. Biotin is a water-soluble vitamin which means its daily take is essential to ensure the healthy growth of the hair. It helps with hair growth, and the thickness of the hair and also gives strength to the hair so it will also slow down the hair fall. (2)
Foods Rich In Biotin
Mushrooms
Avocados
Eggs
Peanut Butter
Cauliflower
Bananas
Walnuts
Almonds
3. Vitamin B12
It is also a part of the vitamin B family and is also essential for hair and cell growth. The deficiency of this vitamin may result in slower hair growth and more hair fall. It helps with controlling hair loss and aids in better absorption of iron. If the body has deficient in iron then it leads to hair loss and slows down hair growth. (3)
4. Vitamin B3
Vitamin B3 or Niacin is responsible for adding shine and luster to your hair. The deficiency of this vitamin leads to serious hair loss and brittle and lifeless hair. And to avoid this type of situation one must eat vitamin B3-rich foods which are essential for proper hair growth and also promotes healthy hair.
Chicken Breast
Tuna
Avocados
Mushrooms
5. Vitamin C
Vitamin C is a vitamin that prevents premature greying of the hair and also prevents hair dryness. It helps in hair growth as it plays an important part in the production of collagen. Collagen is a protein that is vital for hair growth and thickness. Daily intake of vitamin C through foods and supplements is essential for the healthy growth of the hair and reducing the amount of hair fall. (4)
Lemon
Guava
Strawberries
Grapefruit
Mandarin
6. Vitamin D
An adequate amount of vitamin D is necessary for preventing hair loss. In a study, it is found that deficiency of vitamin D in the body can lead to more hair fall and slow hair growth. If a female is facing very slow growth of hair then it can be assumed that there is a lack of amount of vitamin D in the body. (5)
7. Vitamin E
Vitamin E is an antioxidant that repairs damaged cells and tissues, improving hair growth. It fights against free radicals and is vital for hair growth. It moisturizes the scalp and protects the hair from drying which is proven to be the main cause of slow hair growth. They also promote blood circulation in the scalp and make it healthy. This will surely show results in the form of healthy hair growth. (6)
Almonds
Fish
Peanuts
Sunflower Seeds
Dried Herbs
8. Iron
Iron is very essential for ensuring healthy hair growth. An Iron increases the strength of the hair shaft and thus promotes hair growth. With a deficiency of this mineral, your hair will become thin, dull, and dry. It maintains the proper flow of oxygen to the cells, allowing them to work better and give more results. (7)
Red Meat
Eggs
Spinach
Raisins
Apricots
9. Folic Acid
This vitamin is essential for making your hair thicker and shinier. It moisturizes the hair and makes them healthy. It also prevents the premature greying of the hair. The main source of getting folic acid in your body is by taking vitamin B.
Greens
Spinach
Citrus Fruits
Beans
Rice
10. Zinc
Here zinc and hair fall has a direct relation. The deficiency of these minerals will promote more hair loss. (8) It maintains the hormonal balance in the body and also prevents the greying of the hair. It improves hair fall and helps in hair growth.
Nuts
Eggs
Chickpeas
Spinach
Sweet Potatoes
11. Magnesium
The study has shown that deficiency of magnesium in the body gives results in abnormal hair growth and loss of hair. It promotes the health of follicle, which promotes healthy hair growth and control hair fall.
Nuts
Salmon
Seeds
Wild Rice
12. Proteins
Our hair is made of protein. Hence, it is the most important nutrient for hair growth. Protein helps the hair to grow healthy and maintain the health of the hair follicle. It also keeps them shiny and reduces the amount of hair fall. (9)
Eggs
Dates
Greens
Milk
Sprouts
Quinoa
Lentils
Beans
Fish
13. Omega-3
Omega-3 fatty acids are responsible for healthy cell growth. It facilitates transferring the nutrient to the whole body and hair and is mainly known to relieve depression, fight inflammation, and to support a healthy heart. Omega 3 also helps in hair growth and makes them shiny and strong. (10)
Salmon
Flax Seeds
Chia Seeds
Walnuts
Soybeans
Oysters
14. Iodine
Thyroid disruption can cause hair fall and iodine is necessary to support thyroid hormone production. Without enough thyroid hormones the hair follicles stay in the rest phase and not in the growth phase, which in turn give slow hair growth and more hair fall.
Sea Food
Dairy Products
Eggs
Kombu Kelp
Tuna
Includes these vitamins and minerals in your daily life to increase the growth of the hair and health. These minerals are easily available in our daily diet so, it's not difficult to find them. Do leave your comment below and let me know how this article helped you and do share it with your friends too.
Thank You.
15 Best Vitamin E Benefits For Skin, Hair And Health
25 Amazing Benefits Of Vitamin C For Skin, Hair, And Health
Please follow and like us: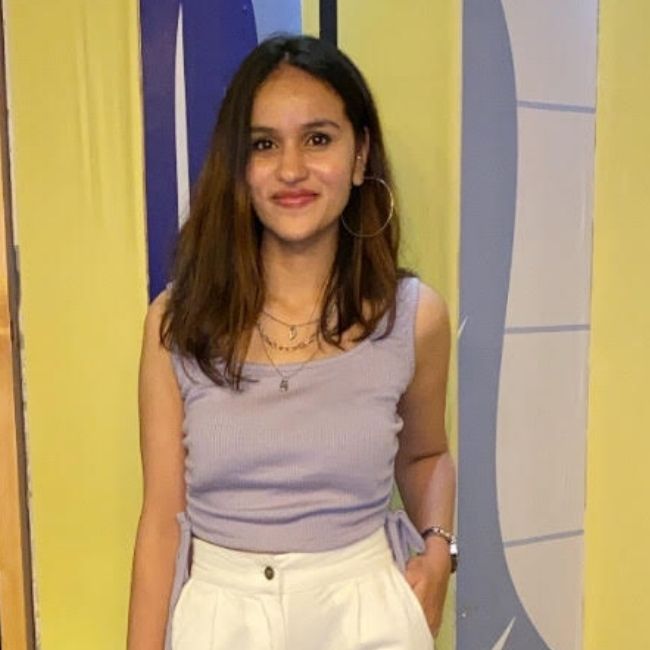 Varsha is a keen content writer with having an interest in writing content on topics like beauty, health & lifestyle. Although she's fairly new, what she likes best about content writing is that it allows her to learn and write about a variety of topics and issues.