For most of us, a good hair day will immediately put you in a good mood. This is the meaning related to the appearance of our hair. Imagine how terrible it is to cope with precious hair that is falling out if even a bad hair day can have such a negative impact on our attitude. Nowadays, hair loss is becoming more and more common among most people.
Although there are many causes of hair fall like genes are responsible for some people, the chemicals in hair styling and hair colouring products are responsible for others. To understand how to immediately stop hair fall, it is essential to follow a good hair care routine. If you are facing severe hair loss problems, it is best to consult a hair specialist for proper medical advice. However, a few lifestyle changes can help reduce hair loss problems.
Home Remedies To Immediately Stop Hair Fall
Tips for controlling hair fall-
Home Remedies To Immediately Stop Hair Fall
Some of us will go a step further and put in the extra effort on how to immediately stop hair fall. If you have time, Ayurveda recommends some effective home remedies that you can use for hair loss.
1. Aloe vera For Hair Fall
We know Aloe Vera for its soothing and healing properties. We recommend applying pure aloe vera gel to your scalp and hair at least twice a week to soothe your scalp pain and reduce dandruff. For people with very oily scalp, aloe vera helps to unblock hair follicles blocked by excess sebum, thus easing hair loss because of oily scalp.
2. Onion Juice
Some of us despise onions for their smell but read on, and they might just turn out to be your favourite. They have shown onion juice as a home remedy for hair fall to treat alopecia areata by promoting hair growth and improving circulation.
The method is very simple: mix some onion and squeeze out the juice, apply the juice evenly on the scalp and hair, leave for 15-20 minutes and then rinse and wash your hair as usual. (1)
3. Amla For Hair Fall
In Ayurveda, gooseberry aka amla is the most popular ingredient in maintaining healthy hair. It is rich in essential fatty acids, which can strengthen hair follicles and give you the lustre you always need. Gooseberries are rich in vitamin C, powerful iron antioxidants, gallic acid and carotene, which can help you prevent premature greying and promote blood flow to the scalp, which actually stimulates hair growth and stops hair fall.
All you have to do is make a paste of lime juice and amla powder, and then apply it to the scalp and hair. You can keep it for about an hour and then rinse it off with clean water.
 4. Curry Leaves
You may have heard from your grandmother that curry leaves are very good for your hair health and hair fall solution as well. It turns out that she has always been right! These leaves are rich in antioxidants and vitamins A, B, C and E, which can add health and vitality to your mane. It can also promote hair growth and prevent premature greying of hair.
Do you want to know how to use curry leaves to prevent hair loss? Apply the crushed curry leaf paste directly to the hair and wash it off after 30 minutes. Or, add a few drops of curry leaf essential oil to the carrier oil of your choice and use it to massage the scalp and hair.
5. Coconut Milk
Wondering how to reduce hair fall using coconut milk? Pick a hair care product from the shelf and you find that almost everyone contains coconut extract. Why is that? That's because coconut has super moisturizing properties. As mentioned earlier, a dry scalp is the major cause of hair loss. To keep your hair follicles healthy again, you can use coconut oil or even coconut milk.
Massage the coconut milk into the roots and let it sit for 10 minutes before washing. Coconut milk can reverse the dryness and make your locks smooth and shiny.
6. Apple Cider Vinegar
Thinking about how to stop hair fall immediately at home? Apple cider vinegar is the answer for it. Besides dryness, another cause of hair loss may be clogged hair follicles. Dirt and bacteria can clog the hair follicles and prevent natural oils from reaching the hair follicles. In order to prevent or solve this problem, it is important to release hair follicles, and you can do it too.
After shampooing, apply apple cider vinegar and water conditioner to your scalp and hair. This home remedy is an effective way to solve the hair loss problem, clogs pores and promotes hair growth.
7. Shikakai For Hair Fall
Our grandmother always insisted on using Shikaki for proper hair care and to reduce hair fall, right? Because of its excellent hair cleansing properties, we often regard it as a natural alternative to shampoos. Shikakai is rich in antioxidants and vitamins A, C, K, and D, which help nourish and protect your hair. They dry the green beans in the sun and then ground them into powder.
Take two tablespoons of this powder and mix it with coconut oil in a glass. Massage your hair with this mixture at least twice a week.
8. Yogurt For Hair Fall
Of course, the magical effects of yogurt on your overall health (especially your hair) are endless. Yogurt is rich in vitamin B5 and vitamin D, which help promote hair follicle health and prevent hair loss.
Just mix two tablespoons of yogurt with one tablespoon of honey and lemon, and then use a brush to apply to the scalp and hair roots. Keep it for about half an hour, and then rinse it off with normal water. We recommend you use this pack once a week.
9. Fenugreek Seeds For Hair Fall
Fenugreek seeds are another natural home remedy that is very effective in reducing hair fall. These seeds are rich in natural hormones, which can stimulate hair follicles and promote rapid hair growth. Fenugreek seeds are also high in protein. Like building blocks, it can strengthen the entire hair shaft and promote healthy hair by reducing hair loss. Simply make the soaked fenugreek seeds into a paste, then apply it to the hair and scalp, and then rinse off for incredible results.
10. Biotin Rich Food
Last but not least, the vitamin B complex is very important for healthy hair. If you want to know how to stop hair fall, you also need to change your diet. These foods are rich in essential fatty acids, which can promote hair growth and prevent hair loss. You can get vitamin B complex doses from foods such as eggs, fish, linseed oil, walnuts, soybeans, and whole grains. It is also important to consult your doctor before changing your diet, especially if you have a disease that requires a specific diet.
Tips for controlling hair fall-
1. Shampoo & Conditioner
To deal with hair fall problems it is critical to understand your scalp type and select the shampoo. Your hair should also be washed according to your scalp. Ensure that the shampoo is free of chemicals such as sulphate, paraben, and silicone, which can make your hair brittle and therefore prone to breaking.
A good quality conditioner may do wonders for your hair. It includes amino acids that assist to heal damaged hair and keep it silky.
2. Healthy Diet & Exercise
You must provide your hair with adequate nutrition, particularly protein and iron. However, besides eating a well-balanced diet, attempt to exercise regularly. Yoga and meditation can help reduce hair loss. (2)
3. Chemical Treatments
Extensive hair treatments such as straightening, perming, and colouring are not good for your hair. Avoid using blow dryers and curling irons on wet hair since they actually boil the water in your hair shaft, making it brittle.
If you really need to use the dryer, set it to the lowest setting. If you are using other hair heating products, start with a strengthening conditioner and finish with a protective spray. (3)
4. Oiling
The oil improves blood circulation and protects the roots. Massage your hair once a week with the right oil for your scalp. Cover it with a shower cap and wash it off with shampoo after two hours. (4)
5. Massages
Massaging your scalp helps to not improve blood circulation and stimulate dormant hair follicles, which is really important to restrict hair fall and promote new hair growth. (5)
Please follow and like us: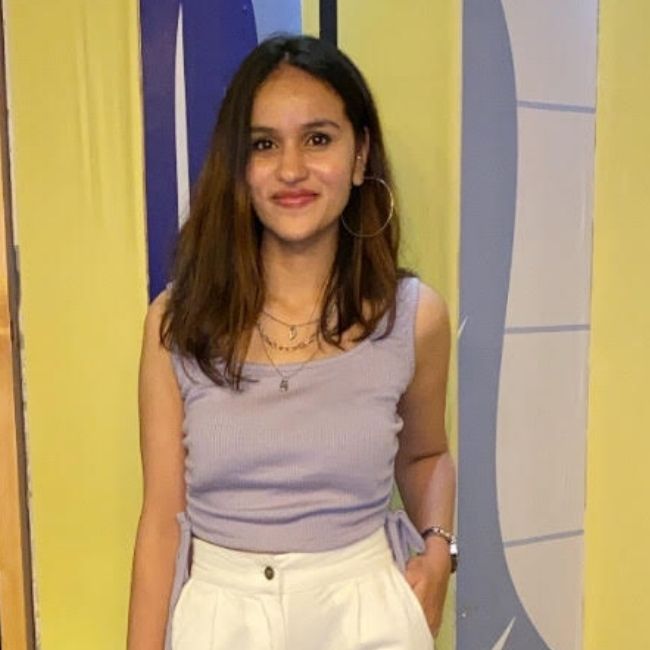 Varsha is a keen content writer with having an interest in writing content on topics like beauty, health & lifestyle. Although she's fairly new, what she likes best about content writing is that it allows her to learn and write about a variety of topics and issues.