As soon as the soft chill in the air becomes biting cold, you know that winter has arrived. It's a delight for everyone to walk in the warm winter sun and enjoy the outdoors. There is plenty of stuff planned to have fun with friends and family, isn't it?? However, the most common problem associated with this season is dry, uneven skin. The good news is that you don't have to see a dermatologist get your dry skin treated. Instead, consider including a natural treatment into your home skin-care routine. In fact, you may already have the components for these dry-skin treatments in your kitchen. Here are some natural homemade winter face-packs to fight dry skin you should use to keep your skin glowing throughout this chilly season.
Winter face packs to fight dry skin
Winter face packs to fight dry skin
With These Face Masks, You Can Say Goodbye To Dry Skin.
1. Honey Face Pack
For this winter face pack, you need avocado and honey. First, both substances are humectants, which aid in the relief of dry skin throughout the winter. Avocados are high in vitamins C and E, as well as healthy fats. Second, these chemicals protect the skin from free radicals while also keeping it moisturized during the winter. Honey is not only a wonderful moisturizer, but it also aids in the appearance of youthful skin.
You need- 
½ avocado mashed
1 tbsp honey
How to use-
Combine both ingredients thoroughly, ensuring that there are no lumps.
Keep it for 15 mins.
When it's dry, wash it off with regular water.
2. Papaya Winter Face Pack
This winter face pack with Papaya is high in vital nutrients and minerals, which help to keep your skin nourished and soft. Milk is rich in vitamin E, which helps dry and dull skin keep moisture.
You need-
How to use-
All you need is half a ripe papaya cut into pieces and raw milk; mash it with a fork to produce a fine purée. And apply this homemade winter face pack and see the results.
3. Coffee Winter Face Pack
This winter face pack with coffee is ideal for rejuvenating dull skin. This face mask treats dryness while brightening the skin and reducing puffiness. You don't have to be concerned because coffee is suitable for all skin types. This mask's cocoa powder is high in antioxidants and can help to heal damaged skin.
You need-
1 tbsp coffee and cocoa powder
1 tbsp honey and milk
How to use-
Combine all the ingredients in a mixing bowl and apply to your face and neck. Leave it on for 20 minutes before washing it off.
4. Multani Mitti Winter Face Pack
Using Multani mitti and other ingredients mentioned in this face pack for dry skin will make your skin glow and moisturize it as well. The natural oils in the Multani mitti will feed your skin from within and give it a natural glow, besides lightening your complexion.
You need-
2 tbsp Multani Mitti
1 tbsp tomato juice
Little sandalwood powder
A pinch of turmeric
How to use-
In a mixing bowl, combine all three ingredients and whisk well until smooth paste forms. Add the turmeric into the paste and fully combine.
Apply the paste to your face and let it stay for 15 mins and wash it with warm water. (1)
5. Carrot & Honey Face Pack
Carrots and honey are used to make a face mask for winter dry skin. Honey has many advantages, and when combined with carrots, it makes a great face mask for dry skin that also helps to brighten dark spots. Carrots provide smooth, lustrous skin because of their vitamin content. They provide vital nutrients that quickly hydrate the skin.
You need-
1 tbsp honey
1 tbsp carrot
How to use-
In a mixing bowl, combine both ingredients. Apply the mask to your face and let it on for 10 minutes and wash away with water.
6. Watermelon Face Pack
In winter watermelon is our favorite fruit but did you know it is also high in vitamins A and C, as well as antioxidants, which are important and used for skin care. It's a wonderful anti-aging agent (2) since it's high in antioxidants like lycopene, Vitamin A, and C. It's a toner that's made from natural ingredients. If you have oily skin, you can eliminate it by mixing hazelnut powder with watermelon juice.
You need-
2 tbsp watermelon juice
2 tbsp cucumber juice
1 tbsp yogurt and milk powder
 How to use-
To make a smooth paste, combine all the ingredients in a mixing bowl.
Apply the paste to your skin and let it sit for 15 minutes before gently washing it off. You'll have bright, beautiful skin.
7. Cucumber Winter Face Pack
Cucumber is a well-known and popular ingredient for instantly cooling and nourishing the skin. This cucumber winter face pack for dry skin will quickly hydrate the skin while also removing any discoloration. All you have to do is scrub with the mask thoroughly. In no time, the sugar will add and provide shine to the face.
You need-
How to use-
Take a cucumber and properly crush it. Blend this well with a spoonful of sugar. Refrigerate it for a few minutes before applying it to the face and neck.
Allow it to sit for 10 mins and wash your face and then apply moisture to pat dry the skin. (3)
8. Gram Flour Winter Face Pack
Gram flour, or besan as it is commonly known, is one of the most frequent ingredients found in our kitchens. This fair face pack for dry skin moreover works well since it brightens the skin, removes blemishes, and smoothes out the complexion when you combine besan with lemon juice and other ingredients.
You need-
½ tsp gram flour and milk
4 almonds grounded
½ tsp lemon juice
How to use-
Make a paste by mixing all the ingredients.
Apply the paste all over your face after it has reached a smooth consistency.
Wash it after 30 mins with lukewarm water
9. Aloe vera Winter Face Pack
We've all heard about petroleum jelly being used to treat dry hands and legs back in the day. But, take our word for it: even dry skin may benefit from this. This is a unique winter face pack that aids in the removal of dry skin and the installation of hydration. Aloe Vera gel will assist to rejuvenate and shine the skin. It rejuvenates your skin and restores it to its young state.  (4)
You need-
Aloe vera gel
Petroleum jelly
How to use-
Mix both of the ingredients in a bowl and leave it for 5 mins. Then wash your face with a wet cloth.
10. Banana and Butter Winter Face Pack
Bananas are beneficial to both dry and discolored skin. These homemade winter face packs during the winter are ideal if your skin is dull daily. As a result, you'll see how it does wonders for your skin.
You need-
1 peeled banana
Butter or milk cream
How to use-
To get a smooth paste, mash the bananas. An equal amount of butter or milk cream should be added to this.
Make a paste out of the ingredients and apply it to your face. When it's completely dry, rinse it.
To sum up I hope you found this information about homemade winter face packs for dry skin helpful. These are reasonably priced and widely accessible. Above all, they're chemical-free and simple to put together. These face packs will replenish the moisture and nutrients in your skin in no time. Try them out and you'll be back to them in no time. In the comments, tell us what you think of them. We'd appreciate it if you could get in touch with us.
---
More Articles you May love to read
---
10 winter beauty mistakes you can easily avoid
12 Essential Winter Skin Care Tips
Top 10 Essential Winter Hair Care Tips
Please follow and like us: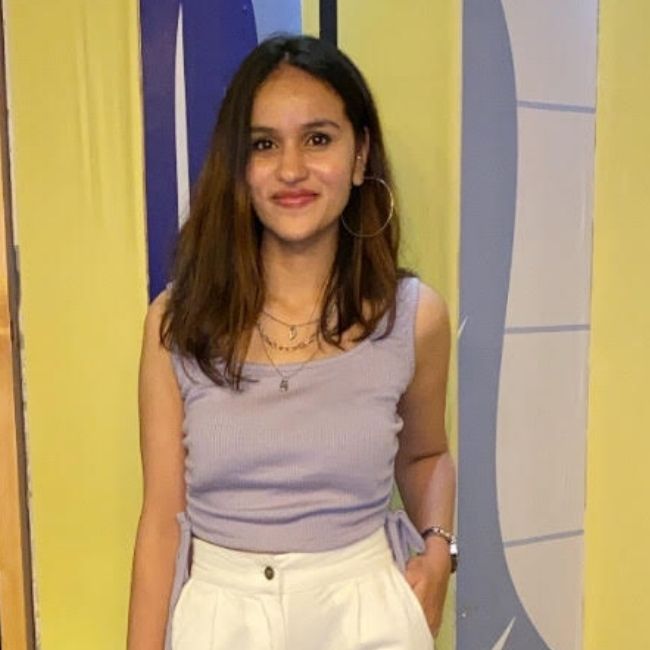 Varsha is a keen content writer with having an interest in writing content on topics like beauty, health & lifestyle. Although she's fairly new, what she likes best about content writing is that it allows her to learn and write about a variety of topics and issues.