Roses make every woman happy whether they are as flowers, mist, or water. Rosewater is magic and has multiple uses for the skin and of course for beauty. It is very popular among all people as this is used in so many DIYs, hair packs, face packs and can be used as it is. Rosewater is the one product that is used by every skin type. It doesn't irritate the skin and soothes it. Because of its multiple uses, it has so many benefits and some of which are discovered here. So, let's read the rose water benefits for skin-
17 ROSE WATER BENEFITS FOR SKIN AND BEAUTY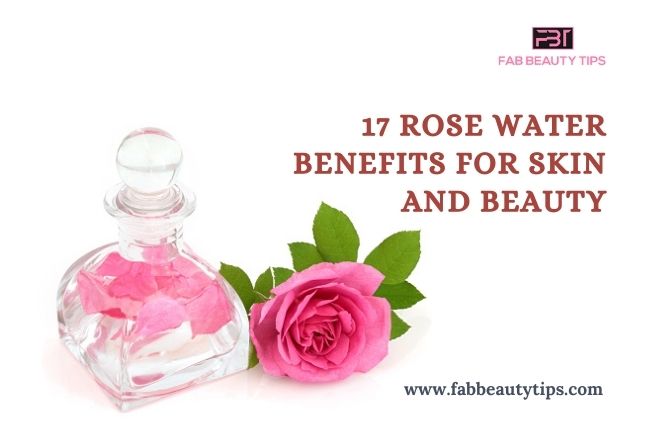 17 ROSE WATER BENEFITS FOR SKIN AND BEAUTY
1. Rose Water to Treat Acne
Rosewater is anti-bacterial and antiseptic. Because of these properties, it makes the best solution for people who have acne or pimple or any kind of acne marks. It soothes the acne from the deep layers of the skin and thus reduces its appearance on the outer layer. Mix it with fuller's earth and apply to the pimple. It will kill the bacteria and make the skin smooth.
2. Remove Aging Signs
Every man and woman notice see the signs of aging which can be because of lack of skin care, lack of sleep, stress, workload, or any other reason. But to make your skin a little less aged is always a good idea, and for that, you need rose water. Rosewater helps in reducing the signs of aging. It removes wrinkles and fine lines. Simply spray some rose water on the face twice a day and see the result after a few weeks.
3. Cleansed The Pores:
These days everyone is concerned about their skin and especially about the problem of open or large pores. Whether it is a girl or boy everyone wants to close those pores. Here comes the rose water for your help with its cheap price too. Spray some rose water or just take it on the cotton pad apply it on the face and leave it to dry. It is a natural astringent which cleanses and closes the pores not harming the skin.
4. Regenerates Skin Tissues:
Apart from its antibacterial properties, it has antioxidants too, which regenerate the skin tissues by removing the dull and dead skin cells. It also strengthens the skin to look prettier and younger. Spray some rose water or just take it on the cotton pad apply it on the face and leave it to dry.
5. Rose Water Hydrates Skin:
If you are a person who has oily skin or is dry and wants to make your skin stay hydrated, then one thing you gonna be thankful to us is for rosewater recommendation. Rosewater is good for oily and dry skin as it hydrates the skin and manages oil and dryness at the same time. Mix a few drops of rose water with your regular moisturizer and apply.
6. Reduces Scars:
Rosewater benefits the face as it has anti-bacterial elements which make it reduce the scars from the face, skin, and body. It also heals minor cuts, wounds, and any other mosquito bites on your skin. Apply some rose water mixed with glycerine on the scars and leave it overnight. (1)
7. Reduces Skin Irritation:
Rosewater helps to reduce redness, itchiness, and irritation because of its anti-inflammatory benefits. This is a must-have product for people with sensitive skin as it treats and solves so many problems single-handedly. It also helps to remove and to soothe eczema and acne which makes it best. (2)
8. Maintains PH Level:
Rosewater helps to keep your skin's PH level balanced. It makes the skin healthy and supple. Our skin and body have different levels of PH to be maintained and when this level is not balanced we face some problems like more oil, more dryness, acne, stretch marks, and such things. So it's important to maintain it. Spray rose water every day on your face to balance it. (3)
9. Brightens The Skin:
Want natural pink and glowing skin? Everyone wants that, but what to do to get that? Simply use some rose water daily in your beauty regime. Rosewater removes dark spots, sun spots, acne marks and clears the skin. It brightens and whitens the skin from within which makes the skin look more radiant and glowing. Cleanse your face with rose water and see the result in some time.
10. Treat Puffy Eyes:
You can use rose water to get rid of age spots, dark circles, puffiness, and tiredness around your eyes. Simply dip two cotton balls in rose water and place them in the refrigerator for 10-12 minutes. Take them out and place them on your eyes for 5 minutes. Gently rub the cotton balls around your eyes and see all the puffiness disappear.
11. Rose Water Heals Sunburn:
Sunburns and sun exposure can be worse as they give us redness, itchiness, and rashes. Use rose water whenever you come home after going out in the sun. Its anti-inflammatory properties soothe the skin and make it less painful and heal them quickly. You can also use it with some crushed mint leaves and apply it to the sunburnt area.
12. Rose Water for Anti Dandruff:
If you have a sensitive scalp too then use rose water while washing your hair with shampoo. Mix some rose water in the shampoo and massage the scalp. It will cleanse the scalp deeply and prevents dandruff. If you already facing the problem of dandruff, then it also works as a moisturizer that condition the scalp and hair. The other benefit of using rose water with shampoo is you also get rid of bad hair smells.
13. Lip Moisturizer:
Rosewater benefits the skin as it helps lock the moisturizer in and make lips soft, moisturized, and supple. You can use it directly on the lips or you can also add the beetroot juice to it for a tinted moisturizer. If you have extra dry and chapped lips, then use honey with it.
14. Face Mist/ Toner:
The people who have sensitive skin always get the wrong product for the skin or don't find any suitable product. With CTM, they always skip the T part that is toning. But hey, we have something for you. Use rose water as a toner and also as a face mist. It is natural and doesn't harm your delicate skin.
15. Makeup Setting Spray:
Besides refreshing, soothing spray some rose water after finishing your makeup as a makeup setting spray. Rosewater spray benefits help in removing extra powder on the face after the makeup and give you a beautiful dewy and glowing finish. It also makes the makeup look natural and supple.
16. Rose Water for Makeup Remover:
Rosewater is safe to use around sensitive areas of the face like eyes and lips which feel irritated with the harsh chemicals. Use rose water with coconut oil mixture and remove the makeup. When mixed with coconut oil it acts as the best makeup remover and doesn't harm and irritate the skin.
17. Helps In De–Tanning:
As mentioned above it removes many scars, marks, and blemishes it also removes the tan from the skin, face, and body. Mix rose water with some aloe vera gel and apply this mixture to the skin where you got the tan. Aloe vera nourishes and hydrates the skin whereas rose water neutralizes the skin color. Do this thrice a week for some time and see your tangoing away.
So, these are some best benefits of rose water on the skin which makes life easier and happier. Use these tips and get the maximum benefit from rose water.
SIDE EFFECTS OF ROSE WATER
Facts have proved that rose water is very safe unless you are allergic to roses or general perfumes. We recommend you conduct thorough research before purchasing rose water to ensure that it is pure rose water with no substances added. Once you are sure that the product you have is pure rose water, we will emphasize the importance of patch testing before using any new skincare products to prevent you from being allergic to any of the ingredients in the product.
If you are not familiar with patch testing, you can do so. Just apply the new product on the inner arm or behind the ear and keep it for 24-72 hours. If there is no redness, itching, burning, or drying after this period, the product can be safe to use!
FAQs:
Can we use homemade rose water?
Ans: Yes! You can use homemade rose water but not more than 1 week. Make fresh rose water every week.
Will it heal damaged skin?
Ans: Yes! But it depends on how damaged is your skin and this takes a long time.
Does it irritate sensitive skin?
Ans: No! It does not irritate any skin type if you are using a good company's rose water.
Please follow and like us: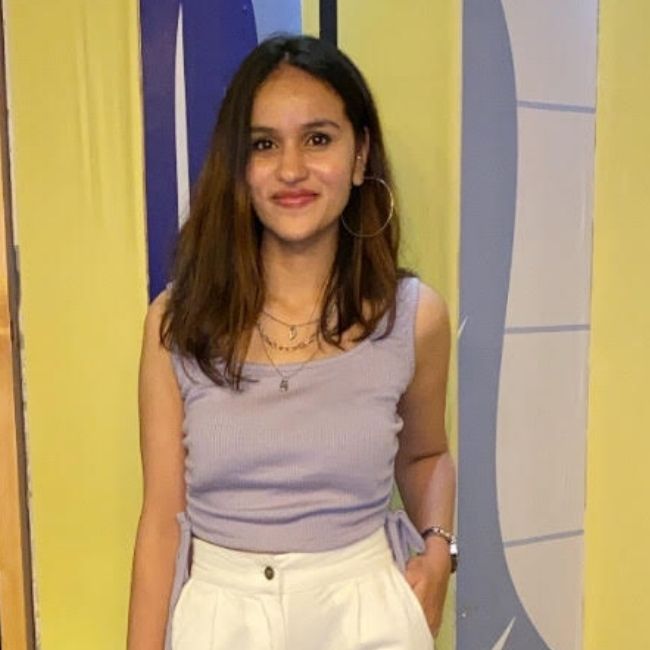 Varsha is a keen content writer with having an interest in writing content on topics like beauty, health & lifestyle. Although she's fairly new, what she likes best about content writing is that it allows her to learn and write about a variety of topics and issues.