Today, we'll discuss and also share some tips for hair growth on the forehead quickly in this article. Hair loss is a significant issue that should be addressed as soon as possible, as well as treated. Hair loss isn't something to be ashamed of because poor eating habits, hormonal problems, a change in lifestyle, or hereditary reasons can cause it.
The cause of your hair loss might vary and can only be determined after seeing a qualified physician. The first symptom that you're losing hair is that your forehead widens. Here's how to grow hair on your forehead faster before things get out of hand. Try some of these tips and masks to help you regrow the hair on your forehead.
How to Grow Hair on Forehead
Here are the best forehead hair growth tips and remedies-
1. Amla
Hair loss can be efficiently treated with amla, also known as Indian gooseberry. This delicious fruit is regarded as a hair-care wonder. It promotes hair development and enhances hair quality, also includes calcium, which aids in the growth of healthy hair. It aids in the strengthening of hair follicles and the reduction of hair thinning and is one of the good home remedies for forehead hair growth.
How to use
In a blender, crush 2-3 Amlas and extract the juice. Apply two teaspoons of Amla juice and an equal amount of lemon juice on the forehead in a circular motion and leave for 2-3 hours. It won't stick as it juices, and you can rinse it off with a gentle conditioner. Apply it daily and see your hair grow.
2. Aloe Vera
Aloe vera has been used to cure hair loss for a long time. It also conditions hair and soothes the scalp. The gel eliminates sebum, or oil, in the forehead, which, when combined with dirt, clogs pores and prevents hair growth. Hair growth is stimulated and dandruff is controlled when used regularly. (1)
How to use
You may either apply the gel straight to the forehead or mix it with curd and let it on until it dries, then gently wash it away with a gentle shampoo. Use it once a week for the best results.
3. Onion juice
Onion juice is a sure-fire way to grow hair on your forehead and promote regrowth. It is one of the most effective methods for dealing with hair problems. Onion juice promotes hair growth by increasing the amount of the antioxidant enzyme catalase in the body. Its high sulphur content feeds your hair follicles. The high sulphur concentration also aids in hair thinning and breakage protection. (2)
How to use
Take three chopped onions and grind them in a mixer to extract the juice. Similarly, in a grinder, ground 20 to 12 fresh curry leaves and empty into a bowl. Mix in two tablespoons of onion juice and apply to the forehead and scalp. After an hour or two, wash it with a light shampoo. Apply once or twice a week to watch how your hair grows over time.
4. Yogurt Mask
This is one of the best and easy remedies for forehead hair growth, as yogurt masks are high in fatty acids and vitamins, promising to stimulate hair growth on the brow. It can help reduce and promote hair loss while balancing pH levels.
How to use
One ripe banana, one tablespoon yoghurt, three teaspoon honey, and one teaspoon lemon juice, mashed in a bowl. In a mixing bowl, combine all the ingredients and thoroughly combine so that no lumps remain. Apply for half an hour, then shower with a gentle shampoo. If feasible, use twice a week until hairs grow.
5. Coconut Oil
Coconut oil, which is high in iron and vitamins K and E, is a natural hair conditioner that fights dandruff, stimulates the growth of new hair follicles by boosting collagen synthesis, and improves blood circulation on the scalp to keep hair follicles and roots healthy. (3)
How to use
Coconut oil should apply to the bald spots on the forehead and the hair strands from the roots to the tips and helps to grow hair on the forehead. Wrap a damp, lukewarm towel over your head after a relaxing massage with heated coconut oil at home for hair loss treatment. After 25-30 minutes, take the towel off. Apply curd to your hair and scalp and leave it on for ten minutes. Use a natural shampoo to get rid of it. For a month, use it twice a week.
6. Coffee Mask
According to recent studies, rubbing coffee on the forehead or receding the hairline can assist to stimulate hair growth exerting no effort. Caffeine in coffee suppresses the DHT hormone and stimulates new hair growth by stimulating the hair roots. In addition, the antioxidants in coffee assist to prevent free radicals from harming the hair follicles. They also promote healthy cell development, which aids in creating good hair.
How to use
Brew some coffee. Allow the coffee to cool before applying it to the scalp (make sure you cover the receding hairline as well). Wait 3-5 minutes before washing it off with water.
7. Coriander Paste
Coriander is high in proteins and vitamins, both of which can aid in hair development. It also contains iron, which can aid in the growth of new hair follicles. This is again one of the good and easy tips for hair growth on the forehead.
How to use
Make a smooth paste with a handful of coriander. Apply the paste to your wet hair. For 5 minutes, massage it circularly. Allow 30 minutes for the herbal cure for the balding forehead to take effect before rinsing with a gentle shampoo.
8. Spinach paste
Spinach has several vitamins, including A, C, B, B2, B6, B1, K, and E, all of which are beneficial to hair development. Minerals in this green leafy vegetable perform like wonders for our hair follicles.
How to use
10-20 spinach leaves, washed, churned in a blender to extract the juice, then poured into a container The bowl is gently massaged circularly with the help of cotton on the forehead. Leave for 30 minutes before rinsing with a gentle shampoo. Use once a week consistently to see a difference in your personality.
9. Rosemary Oil
Rosemary oil is a hair tonic that promotes hair growth by increasing blood circulation in the body. This oil outperformed minoxidil, a popular hair growth therapy, but with fewer adverse effects including scalp irritation and is one of the best tips for hair growth on forehead. (4)
How to use
Combine one spoon of rosemary oil and two spoons of coconut oil in a mixing bowl. Apply the oils on the forehead and hairline after mixing them together. Wait a few minutes (or overnight) before rinsing it off with water.
10. Egg, Olive Oil and Honey
Protein, zinc, iodine, sulphur, and a variety of other minerals may all be found in egg whites. Honey hydrates dry, damaged hair, and natural humectants help to repair hair follicles and stimulate hair development. Olive oil generates DHT hormones, which helps to mitigate the negative effects of synthetic and hazardous goods.
How to use
2 egg whites (no yolk), 2 tablespoons honey, and 3 tablespoons olive oil. Combine the egg white, honey, and olive oil in a mixing bowl and stir until the egg white is fully dissolved. Apply to the forehead and scalp for half an hour, then wash it off with a gentle shampoo. Apply on a weekly basis to witness the results.
11. Curry leaves and Hibiscus Flower
Curry leaves are high in beta carotene and loaded with amino acids which helps to prevent hair loss and stimulate hair growth. Hibiscus gives luster to your hair and helps to color it, avoiding premature greying.
How to use
In a dish, combine 8-10 hibiscus flowers and leaves with 2- 25 curry leaves. Empty them into a basin after grinding them into a smooth paste. Then, using a hairbrush, apply to the forehead and leave for an hour or until dry. After that, rinse with water and a gentle wash. Apply once a week and see the results.
12. Black pepper and Jojoba Oil
It is one of the greatest packets for increasing the development of new hair follicles. With the aid of its many minerals, it substantially increases blood flow.
How to use
Take a quarter cup of pepper powder and a half cup of jojoba oil, mix well, and set away for two weeks in an airtight container.  The oil should then be gently drained, and the rest discarded. Apply to the forehead and scalp and let on for half an hour before rinsing off with warm water. For best results, rinse with mild shampoo and apply twice a week.
So, if your forehead is widening, use one of these methods to regrow the hairs on your brow. Simply use them regularly to see results in a month or two.
Please follow and like us: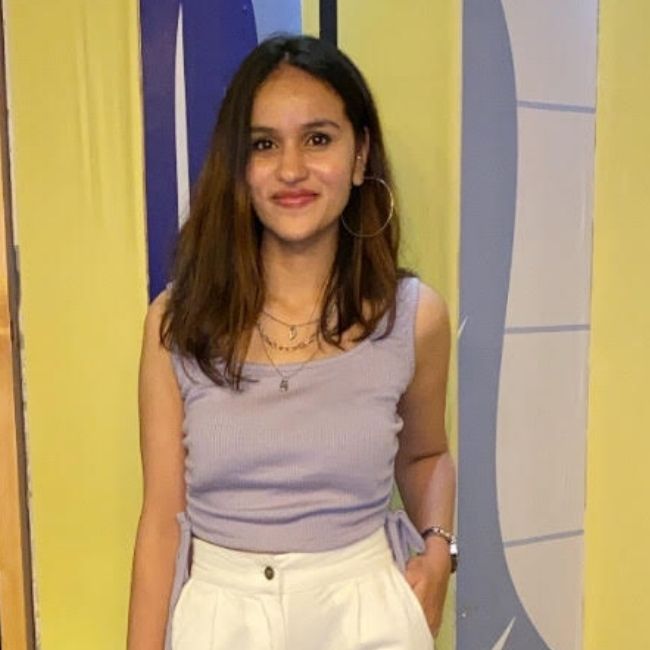 Varsha is a keen content writer with having an interest in writing content on topics like beauty, health & lifestyle. Although she's fairly new, what she likes best about content writing is that it allows her to learn and write about a variety of topics and issues.