Types of dandruff- home remedies to treat dandruff
The most embarrassing thing that might happen while you're dressed up for an interview or a formal dinner is an overwhelming desire to scratch an itchy scalp while simultaneously knowing that a flow of white flakes would follow, over a jet-black blazer- for everyone to see. Dandruff and various types of dandruff is a medical condition that has confederated more than half of the adult population worldwide – regardless of gender, age, or race.
Dandruff is a scalp condition caused by various reasons like Dry skin, poor hygiene, allergies, medical issues, and so on — and if you think the symptoms are the same for everyone affected, you're mistaken. To discuss the problem, it is critical to first determine the kind (yes, there are diff types of dandruff). Let us know the different types of dandruff on the scalp and which home remedies you can use to stop dandruff.
Types of dandruff- home remedies to treat dandruff
Ways to stop them with Home Remedies
1. Dry Skin Dandruff
The most frequent type of dandruff is dry skin, which is more prevalent in the winter. It's caused by a hot water head bath, which causes the scalp to become parched and flaky. This form of dandruff is quite common among those with dry, curly hair.
This condition needs to be treated with moisturizing shampoos, and coloring, dyeing, and perming should be avoided. Oil massages regularly can also assist to relieve itching and promote blood circulation while also providing nutrients to the scalp. (1)
2. Oil Related Dandruff
A buildup of sebum, oil, and trapped debris can cause dandruff. Dead skin cells cluster together and collect dirt, resulting in irritating flakes on the scalp. Stress and high levels of anxiety may cause excessive sebum production.
To control your stress and anxiety, try a variety of techniques or seek professional treatment.
3. Fungal Dandruff
Malassezia is a fungus or yeast that causes this. This yeast is a component of the skin's natural flora (microorganisms that live on the surface) that helps keep fungus at bay and avoid infection. Malassezia is known to multiply when there is an excess of sebum since it grows in it. (2)
4. Dandruff caused by eczema
Under types of dandruff, another one is eczema. The most prominent sign of scalp eczema is the loss of white flakes. Seborrheic dermatitis, which is commonly known as dandruff, is a kind of eczema that affects the scalp. Eczema that affects the scalp is the most common kind. It's a difficult illness to treat, and it can last for years. It might arise and vanish without notice.
Scalp eczema can be efficiently treated, but it is not curable. Genes, hormones, disease, and stress trigger some people's scalp eczema. Other medical problems, such as HIV, Parkinson's disease; skin diseases, such as psoriasis, rosacea, or acne; allergens, such as asthma or hay fever; and it has linked other forms of eczema to eczema dandruff.
5. Dandruff caused by Psoriasis
Psoriasis is an autoimmune disease in which skin cells develop excessively fast, resulting in thick, scaly areas on the skin. Psoriasis on the scalp can take the form of thin, powdery flakes with a silver shine. Raised, irritated, scaly areas of skin coated in a silvery-white accumulation of dead skin cells can also be seen.
Corticosteroids can help with psoriasis flare-ups sometimes. Shampoos containing salicylic acid or zinc pyrithione may also help to ease psoriasis symptoms on the scalp. (3)
 Ways to stop them with Home Remedies
1.   Neem Oil for Fungal Dandruff
Ancient Ayurvedic texts describe the neem tree as "Sarva Roga Nivarini", which means almighty healer or healer of all diseases. The major cause of dandruff is fungi called Candida and Malassezia. The antifungal properties of neem oil are effective against this fungus. You can also use neem oil to relieve inflammation, itching, and irritation caused by dandruff. For people prone to dandruff, neem oil should be used regularly. It also helps maintain the pH balance of the scalp and further prevents the formation of dandruff.
To use neem oil to remove dandruff naturally, dilute the same amount (50/50) of neem oil with sweet almond oil/sesame oil and then gently massage the oil directly onto the hair roots and Scalp. After leaving it on for 30 minutes, clean your hair with a natural cleanser.
2. Coconut Oil for Dry skin Dandruff
Coconut oil can effectively moisturize the skin, preventing dandruff caused by dryness. Studies have found that coconut oil in particular can help prevent eczema and relieve symptoms caused by skin inflammation and itching. Some studies have also shown that coconut oil and its compounds have antibacterial properties. Applying coconut oil to the scalp and hair for eight weeks can help relieve dandruff symptoms by up to 68%.
So before you shower, treat it like self-care time, massage a few drops of coconut oil on your scalp and hair, let it sit for at least 30 minutes, and then go to the shower!
3. Apple Cider Vinegar for Dandruff
Apple cider vinegar is used to help remove dead skin cells and balance the pH of the scalp. Test tube studies have shown that it can prevent the growth of certain types of fungi. To use, mix two to three tablespoons of apple cider vinegar with an equal amount of water, then place it on the scalp, let it sit for a few minutes, and then rinse or shampoo the hair with clean water. You can also add a few drops of apple cider vinegar to the bathtub to restore the pH balance of your body and hair.
4. Fenugreek Seeds
Fenugreek seeds are also high in proteins and nicotinic, which help prevent hair loss and dandruff, and treat various scalp problems such as dry hair, baldness, and thinning hair. It contains a lot of lecithins, which can hydrate the hair and strengthen the roots or follicles.
Soak 3 tablespoons of fenugreek seeds in water overnight Grind the fenugreek seeds the next morning. Make sure to grind them well until they have the consistency of a paste. Now squeeze the fresh lemon and add 1 tablespoon of lemon juice to the paste. With the help of your hands, apply this paste to the scalp and hair ends. Let it stay on your hair for 30 minutes. Rinse hair with a mild shampoo. This mask helps restore scalp health, reducing dandruff and hair loss.
5. Garlic for Dandruff
Garlic has strong anti-inflammatory and antioxidant properties, which can improve skin conditions while preventing skin infections. Although it smells bad, it seems to reduce the symptoms of scalp psoriasis.
Mix raw garlic or crushed garlic with aloe vera paste or gel in a 1: 1 ratio. Apply the mixture to the affected area for 15 to 20 minutes. After that, rinse with cold water. This treatment can be used safely every day.
6. Salt for Dandruff
Salt can absorb excess oil on the scalp, which is itchy and irritable. The oilskin is also the reason to float pimples on the forehead, so it's best to treat shed as soon as possible at home.
Simply add a pinch of salt to your normal shampoo and apply it to your hair. Massage it gently in a circular motion over the skin and plug your dead. Leave it for one or two minutes and wash with warm water.
7. Turmeric for Dandruff
Turmeric is a well-known herb for its anti-inflammatory and antioxidant properties. People with scalp psoriasis can take daily turmeric supplements or add more turmeric (fresh or powdered) to their dishes to relieve their symptoms. Taking 1.5-3g of turmeric daily is safe and can help.
Following a balanced and healthy hair care program can go a long way in reducing dandruff. However, if you don't see any relief and the itchiness or dryness persists, see your doctor about seborrheic dermatitis (a fungal infection of the scalp).
Please follow and like us: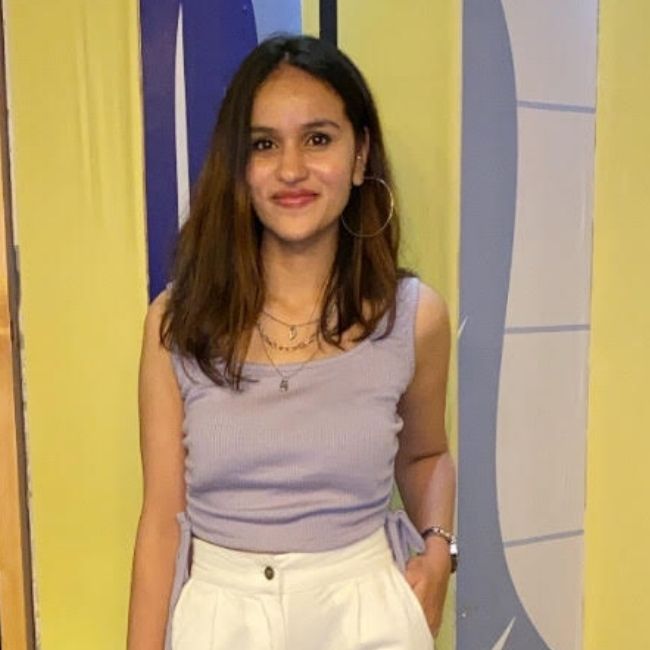 Varsha is a keen content writer with having an interest in writing content on topics like beauty, health & lifestyle. Although she's fairly new, what she likes best about content writing is that it allows her to learn and write about a variety of topics and issues.