Did you know tomatoes are not only good for your health but also good for your skin? Yes, you read it right. Tomatoes contain various nutrients, such as carotenoids, folic acid, vitamin C and other nutrients that can do wonders for your skin. From removing sunburn to fighting excess oil and acne, this sweet, tangy vegetable can solve half of the skin-related problems. So, this is how you use this powerful vegetable. Read on to learn more about homemade tomato face pack recipes and their benefits.
Benefits of Tomatoes for Skin
There are many benefits of tomato for the skin as it contains many nutrients that can protect you from the harmful effects of the environment. We tell you how:
Corrects uneven skin tone
Protects and repairs skin from sun damage
Treats hyperpigmentation
Treats acne
Fights cellular damage
Helps in shrinking pores
Helps in removing blackheads
Have anti-ageing properties
Stimulates collagen production
Tomato Face Pack To Get Fair Spotless Glowing Skin
Tomato Face Pack To Get Fair Spotless Glowing Skin
1. Tomato and Olive Oil Face Pack
This dry skin face mask will leave your skin feeling soft and well hydrated as olive oil contains essential fatty acids which nourish the skin and easily eliminate dryness. (1)
You need-
1 tomato
1 tsp virgin olive oil
How to use-
Cut the tomato into two parts. Squeeze half of the juice into the bowl.
Add olive oil and stir the mixture.
Apply this mixture on the face and keep it for 20 minutes.
Wash with lukewarm water.
2. Tomato Pulp Face Pack
The brightening properties of tomatoes can help you remove the tan and make your complexion glow. Therefore, if you are looking for a natural way to get rid of tanning, use tomato and potato extract as they are effective and there are many benefits of tomato for your skin. This homemade face pack for tanning gives the best result if used once a week.
You need-
How to use-
Grate a potato and tomato and squeeze out the juice.
Mix the two in equal proportions and apply to the affected area
After applying one coat, allow it to sink in and then apply another coat.
Continue laying 4-5 layers and finally allow to dry completely and then remove with a damp towel.
3. Tomato and Cucumber Face Mask
If you have oily skin, tomatoes solve your pain. Cucumber conditions the skin and balances its pH. This natural face pack can also tighten the pores on the skin, which are usually large when you have oily skin. (2)
You need-
How to use-
Place 1/2 tomato in a bowl and squeeze the tomato juice. Now crush 1/2 cucumber into small pieces.
Mix these ingredients to make a paste.
Apply this mixture to your face and wash after 20 minutes.
4. Tomato and Honey Face Pack
If your skin is dull and lifeless, use this brightening tomato and honey face pack. Also, this pack can reduce skin blemishes and brighten the complexion. (3)
You need-
1 tbsp honey
½ ripe tomato
How to use-
Apply this paste on your face and keep it for 15 minutes.
Then wash the mask off with cold water and pat your skin dry with a clean towel.
5. Coconut and Tomato Face Mask
This tomato face pack benefits us as coconut milk is one of the best natural ingredients for healthy, radiant and youthful skin. It is rich in vitamins B1, B2, B4, C, E and so on. It also has the benefits of magnesium and calcium. These nutrients, along with their saturated fat content, provide high-quality nutrients and rejuvenate skin cells. Also, coconut milk contains a lot of vitamin C, which helps to brighten the complexion. Coconut milk also has anti-ageing effects on our skin.
You need-
½ tomato
¼ cup coconut milk
How to use-
Mix these to prepare DIY Skin Whitening Tomato Mask. Use a cotton ball to apply the mask evenly all over the face and neck.
Leave on the skin for 20 minutes. Wash with fresh water. Repeat twice a week.
6. Tomato Face Pack with Sugar
The combination of sugar and tomato DIY face pack is a very effective facial scrub that can exfoliate the skin of the face. Sugar acts as the main cleansing part to remove dead skin cells and regenerate new cells. Tomatoes are rich in the powerful antioxidant lycopene, which is mainly found in tomatoes or their products, such as tomato paste. Tomatoes have tiny particles, which are easily absorbed by the skin when applied to the face.
You need- 
1 medium or large tomato
2 tbsp sugar
How to use-
Cut off the top of the tomato. Put the sugar on the top.
Then gently rub in small circular motions.
Relax for 10 minutes and rinse with warm water.
7. Sandalwood Powder and Tomato Face Pack
Sandalwood is a very common ingredient in face masks. Helps instantly glow, remove and bleaches the skin. Turmeric is an anti-inflammatory culinary ingredient and is known as a skin tone enhancer.
You need-
1 tomato
2 tbsp sandalwood powder
Pinch turmeric
How to use-
For this pack, you need to take a half-cut tomato and remove the seeds from it.
Coat the tomatoes with sandalwood and turmeric powder and rub them on the skin.
After 5 minutes of massage, leave it on your face for 15 minutes, then rinse it off with warm water.
8. Aloe Vera and Tomato Face Pack
Aloe vera can rejuvenate the skin thanks to its excellent moisturizing properties. It can hydrate the skin without greasing it. It also acts as a natural astringent and helps reduce pore size and regulate sebum secretion. Aloe vera is a natural antioxidant. It helps repair and prevents oxidative damage caused by free radicals, thus protecting our skin from the first signs of ageing like premature wrinkles and making the skin appear younger. (4)
You need-
2 tbsp aloe vera gel
2 tbsp tomato juice
How to use-
Mix these ingredients. Once you have a smooth paste, apply it evenly on your face and keep it for 20 minutes.
Rinse off with cool water. Repeat this tomato mask twice a week.
9. Curd and Tomato Face Pack
Tomato juice is a natural bleaching agent that suits all skin types and improves skin colour. This face pack improves the texture of our skin, leaving it smooth and subtle. When combined with curd, this tomato and curd face pack is fantastic.
You need-
How to use-
Make a face mask out of these two ingredients by combining tomato juice and curd and applying it to your face.
After 10 minutes, massage your face in a circular manner with a bit of curd.
After 10 minutes, cleanse your face.
Because it is chemical-free, there are no negative effects.
10. Tomato and Multani Mitti
Fuller's earth cleanses blocked pores, eliminates acne scars, and soothes sunburn. This tomato face mask absorbs excess oils from your skin, which is very beneficial for oily skin. (5)
You need-
1 tbsp fuller's earth
2 tbsp tomato juice
How to use-
To make a smooth paste, combine these.
Apply it to your face and wait 10 minutes for it to dry.
Rinse well with lukewarm water. Apply a moisturiser after patting your skin dry.
Repeat this process every 3-4 days.
You can try these tomato face packs to get fair, spotless glowing skin and do comment on which face masks you liked. If you like this article do share it. 🙂
Please follow and like us: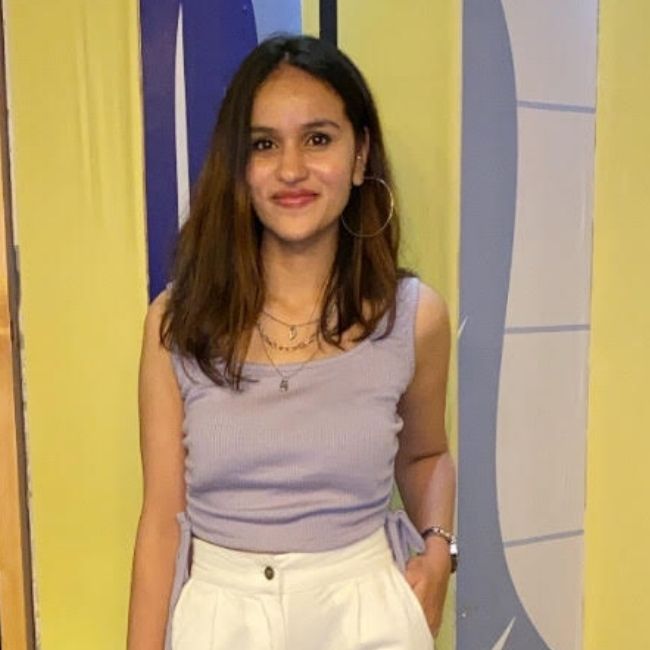 Varsha is a keen content writer with having an interest in writing content on topics like beauty, health & lifestyle. Although she's fairly new, what she likes best about content writing is that it allows her to learn and write about a variety of topics and issues.