Using rice water for hair is nowadays blowing the internet, but it is a very old method to keep hair healthy. Usage of rice water was started by ancient Chinese and Japanese women. As rice water is a rich source of several vitamins and minerals, their hairs were long, frizz-free, healthy, and thick.
In the Heian period in Japan, the court women had very long beautiful, and silky hairs that reached up to the floor by washing them with 'Yu-Su-Ru', which means rice water. Huangluo village in the Guangxi Zhuang Region had a world record in the Guinness Book of "World's longest hair village ".  Women of that village had average hair lengths up to 1.5 meters and all they did was wash their hair with rice water. Isn't it amazing? We can call it a magic potion for hairs.
But what is the reason that rice water is so effective for hair growth and health? Here we are with some mind-blowing benefits and methods of using rice water.
Rice Water for Hair: Methods and its amazing benefits
Benefits of Rice Water for Hairs
Methods to Make Rice Water for Hairs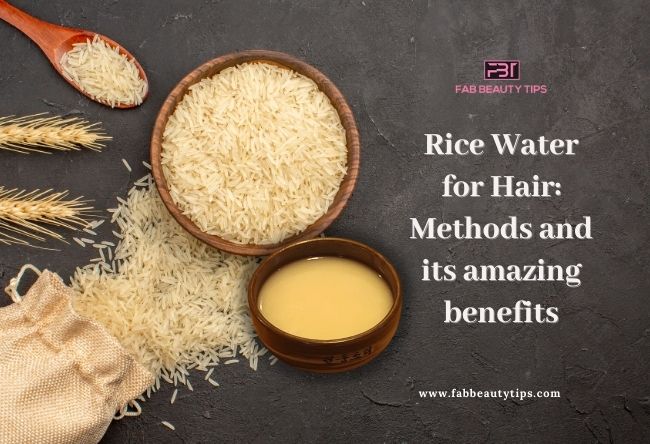 Rice Water for Hair: Methods and its amazing benefits 
Benefits of Rice Water for Hair
Rice water contains vitamin E and B complex that treats damaged and dull hairs making them soft and shiny. (1)
Rice water has most of the essential proteins, antioxidants, and amino acids that are required for hair. It provides a lot of nourishment to hair and makes it healthier.
Vitamin C is contained in it, which prevents hair loss. It also makes the thin end of hairs thicker. It adds volume to hair and gives shine to them. (2)
Rice water helps in preventing grey hair and that's the secret of northeast Asian women who don't have grey hairs until their 70s-80s. (3)
Rice water reduces split hairs. It makes hair frizz-free and gives it a smooth texture.
It removes dandruff, cleans the scalp, and prevents it from getting greasy.
Methods to Make Rice Water for Hair
You will need – 
Half cup rice
2 – 3 cups of water
1- 1 ½ tbsp of essential oil (optional)
Process – 
 Rinse rice with cold water thoroughly and add clean water to it.
Stir it well and transfer it into a jar.
Close the jar airtight and keep it for 1 or 2 days.
Add some drops of essential oil to it if you want to. It will mask the pungent smell of fermented rice water.
 Process –
Wash rice with clean water.
Boil the water and then add rice to it.
Cook it as usual and strain the water into a clean bowl.
Let it cool down and it is ready to make your hair beautiful.
 How to use it –
Shampoo your hair, as usual, to remove the dirt and oil from your scalp.
Rinse with rice water and gently massage it in a circular manner for 10 to 15 mins.
Wash your hair with clean cold water.
Rice water is best for hair growth and has been used since ancient times. It has loads of essential compounds that help in achieving our dreamy hair goals.
However, fermented rice water is concentrated and has a higher amount of protein. Its pH should be optimum otherwise it can result in protein build-up on hairs making them dry. It is recommended to dilute it before using it.
Thank You.
---
More Articles you May love to read
---
Rice water for skin: Potential benefits, preparation, and usage
16 DIY Rice Flour Face Pack & Benefits of Rice Flour for Skin
---
Please follow and like us: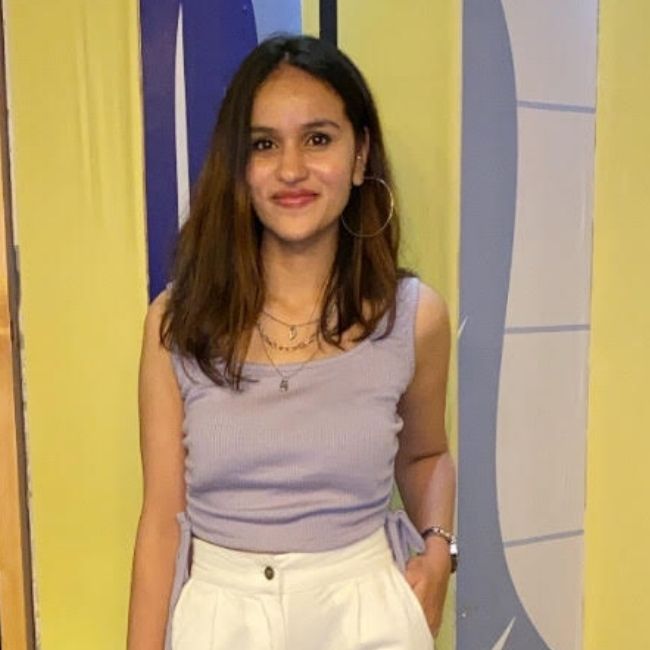 Varsha is a keen content writer with having an interest in writing content on topics like beauty, health & lifestyle. Although she's fairly new, what she likes best about content writing is that it allows her to learn and write about a variety of topics and issues.