Who doesn't like those soft plum pink lips? But all you have is those chapped dry irritated lips. No worries. We are here to give you some natural lip care tips that will make your lips happy and cute.
The skin of our lips is more tender than the rest of our faces. That's why it is more sensitive and can become dry and damaged due to cold air, UV rays of the sun and pollution. It becomes dark, chapped, and sometimes even causes bleeding. We have to take care of them more often.
Here are some lip care tips to take care of naturally.
Top 12 lip care tips: How to take care of lips naturally and effectively
4) Moisturize with milk and honey
Top 12 lip care tips: How to take care of lips naturally and effectively
 Lip care natural routine
1) Massage with coconut oil
Take two to three drops of coconut oil on your palm and rub it till it becomes a little bit warm. Then apply a thick layer on your lips. Do this every night before sleeping.
Coconut oil acts as an emollient and moisturizes lips. It also makes them soft and plump. Coconut oil also cures the damage caused due to the UV rays of the sun.
2) Exfoliate
Exfoliate lips gently with a soft-bristled toothbrush in a circular manner. It will slough off the dead skin as well as stimulate the blood flow and help in the regeneration of skin cells.
Remember to brush your lips gently otherwise, it can cause bleeding.
3) Sugar scrub
Take a spoonful of sugar and add honey to it. Make a thick paste of it and gently rub it on your lips. Do this twice a week. You will see the effects in about a month.
Honey acts as a moisturizer and sugar remove dead skin from the skin. It will make lips pink, plum, and smooth to touch.
4) Moisturize with milk and honey
Take two teaspoons of milk in a bowl and add one teaspoon of honey. Stir it until it becomes thick. Apply generously on your lips and wash it off after it dries. Do this once a week.
Milk nourishes and hydrates lips making them smooth. Honey deeply moisturizes them and also lightens them.
5) Beetroot lip balm
Cut small pieces of beetroot and lend it. Strain the juice using a cotton cloth. Add one or two tbsp of beeswax and mix it properly. Transfer all the mixture into a small container and put it into the refrigerator to set. Store that lip balm in a clean container. You can use petroleum jelly or coconut oil or shea butter instead of beeswax.
Beetroot works like magic on dark lips and makes them soft pink. Beetroot is rich in antioxidants, minerals, and vitamins that's why it will fulfill the needs of lips.
6) Ghee
My grandma used to apply ghee on her lips and that was her beauty secret of having smooth lips even in winters. Even in Ayurveda, ghee has an important place. Ghee is the easiest and most effective remedy for dark dry lips.
Just take a few drops of ghee and gently massage it on your lips before sleeping. A lip moisturizer that deeply hydrates, exfoliates, makes them soft, plump and soothes chapped lips. Ghee soothes your ailing lips.
7) Use a lip balm with SPF
Due to harmful rays of the sun, lip skin can become pigmented, dry and in severe conditions, it can even cause skin cancer. To avoid this situation, use lip balm with SPF every time you go outside. Make sure lip balm has SPF 15 or higher. Reapply it from time to time.
8) Keep your lips hydrated
In summer our body absorbs more water for osmoregulation, in winters due to cold air and in the rainy season due to humidity, our lips tend to dry out. They become chapped. Drinking enough water helps in regaining the hydration of skin, nourishes it, and makes them healthy too.
9) Vitamin E
Cut a vitamin E capsule and squeeze the product. Apply it on your lips and keep it all night. Dry lips absorb the product making themselves smooth and supple.
As it is thick in consistency it takes time to get absorbed into the skin keeping it moisturized for a longer time. It also protects lips from harmful rays of the sun.
10) Glycerine
Take two-three drops of glycerin and dab them on your lips using your fingers. It keeps lips moisturized all day long and also cures dark lips. If you have flaky lips, this method is best for you. Glycerin makes the texture of lips smooth. And plum and keeps skin tight.
What to avoid
11) Avoid too much caffeine
Excessive intake of coffee or tea can make your lips dark. That's why you should drink less coffee or tea. You can swap caffeine with any healthy drink like line water or green tea. It's healthy for your lips and even hydrates them.
12) Avoid licking your lips
If you have a habit of licking lips, you need to immediately break that habit. If you are licking your lips they will become drier chapped and dark. When lips become chapped, we unconsciously peel that skin from lips. It makes skin more sensitive and sometimes it causes bleeding. That's why consciously try not to lick your lips.
Having smooth pink lips is the dream of many people. But due to harsh chemicals, bad habits, pollution and sun rays it gets worse and worse. These natural tips will cure your lips and make them healthier. But before applying any product on lips make sure you don't have any allergies.
Please follow and like us: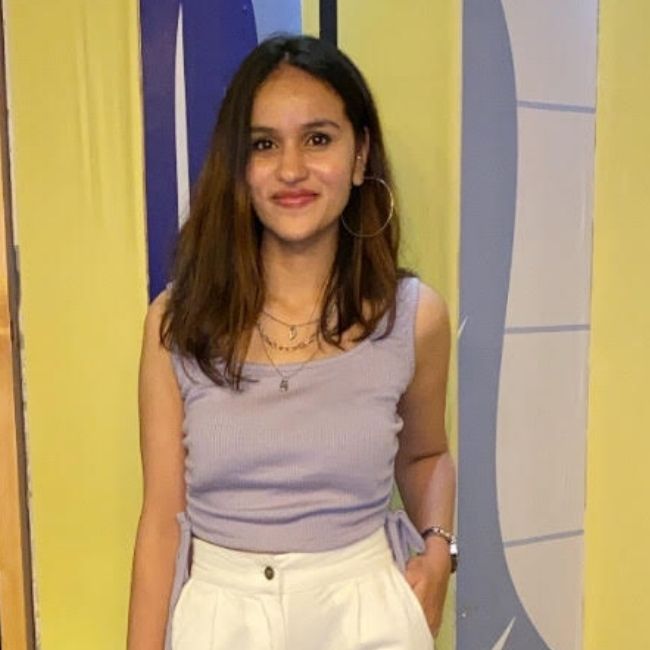 Varsha is a keen content writer with having an interest in writing content on topics like beauty, health & lifestyle. Although she's fairly new, what she likes best about content writing is that it allows her to learn and write about a variety of topics and issues.