For our skincare routines, most of us are quite diligent. Cleaning and moisturising become more of a religious ritual than a routine after a certain point. However, no matter how committed you are to your habit, your skin may occasionally require a little pampering to look its best. Homemade body scrubs can help with this.
Body scrubs are fantastic because they exfoliate while also nourishing the new skin underneath, leaving you soft and radiant. When exfoliating your skin and cleaning your pores with a body scrub will leave you with smooth, gorgeous, glowing and younger-looking skin. Some of the greatest ingredients for body scrubs are likely to be found in your kitchen. They're all completely natural and, literally, edible.
12 Simple Homemade Body Scrubs For Gorgeous, Glowing Skin
12 Simple Homemade Body Scrubs For Gorgeous, Glowing Skin
Here are a few ideas for amazing and inexpensive -Homemade body scrubs that you can make at home:
1. Yogurt Body Scrub
With this homemade yoghurt body scrub, you can have bright, glowing skin in no time! Yogurt includes lactic acid, which removes dead skin cells while also tightening pores. Olive oil hydrates dry, chapped skin and reduces the look of scars and cellulite by gradually decreasing their appearance.
You need-
1 tbsp yogurt
1/4th cup olive oil
1 tsp honey
3 tbsp granulated sugar
How to use
Combine all ingredients in a small mixing bowl. Fill it in a clean, airtight jar or container.
Scrub a handful onto wet skin in slow, circular motions while in the shower.
Pay special attention to difficult and rough body areas such as the feet, knees, elbows, and shoulders.
Rinse well and pat dry.
For extremely soft, radiant skin, repeat once or twice a week.
2. Coffee and Sugar Body scrub
Coffee grounds exfoliate well in DIY homemade body scrubs because of their sand-like texture. The grounds assist to rejuvenate and improve your skin by gently removing dead skin cells. (Hello, silky-smooth skin that's young and radiant!) Exfoliants can also plump and tighten the skin, reducing the appearance of cellulite for a short period. (1)
You need-
½ cup ground coffee
½ cup brown sugar
1 tsp vanilla extract
½ cup melted coconut oil
How to use
Combine 1/2 cup of freshly ground coffee and 1/2 cup of brown sugar in a mixing bowl.
Add 1/2 cup of coconut oil and 1 teaspoon of vanilla extract to the coffee mixture.
Mix until everything is properly mixed.
Rub the mixture gently over your entire body, avoiding the eyes. Leave it for some time and rinse it then. (If you use the scrub in the shower, be careful since the oil might make the floor slick.)
3. Oatmeal Body Scrub
This homemade oatmeal scrub works for all skin types. It is one of the most effective natural exfoliators. It not only helps to remove dead skin cells but also soothes and heals our skin.
You need-
1 cup oatmeal
1 tbsp brown sugar
2 tbsp milk
1 tbsp almond oil
Whites of one whole egg
How to use
Combine all the ingredients in a mixing bowl and well to combine. If the mixture cannot spread, add a few more drops of oil.
Apply this mixture to the face and neck in a circular motion. If you feel you need more sugar, then add more. Your goal here is to exfoliate your face.
 Rinse with a warm towel.
 Apply moisturizer to cleansed and washed skin.
4. Turmeric Body Scrub
Making a DIY turmeric scrub is very simple and good for your skin. The scrub removes dead skin cells and provides moisture, leaving you with a healthy, radiant complexion. Use this facial scrub to reduce the appearance of blackheads and acne blemishes, as well as wrinkles. (2)
You need-
1 cup brown or white sugar
¼ cup coconut oil
2 tbsp turmeric powder
12 drops of any essential oil (ex: lavender oil)
How to use
If you are using coconut oil, melt it first.
 Put all the ingredients in a medium-sized mixing bowl and mix well.
 After mixing well, move it into an airtight conditioner
 Is suitable for moist skin and also massage the skin in circular motions. After that, rinse well with warm water and wipe dry with a towel.
5. Lemon & Sugar Body Scrub
Lemon is rich in vitamin C, which can lighten dark spots and hyperpigmentation, brighten skin tone, and tighten pores. Olive oil is a natural soothing moisturizer rich in vitamin E; it can also prevent acne scars. Honey has antibacterial, moisturizing and antioxidant effects, and is very suitable for preventing and treating acne, dry skin and other signs of ageing. Sugar is a gentle, natural exfoliant that removes dead skin cells, leaving your skin smooth and your complexion radiant.
You need-
½ lemon juice
1 tbsp olive oil
1 tbsp honey
½ granulated sugar
How to make this homemade body scrub-
In a mixing bowl, combine the lemon juice and olive oil; add the honey and sugar and stir until thoroughly mixed.
To use as a body scrub, apply it gently in circular motions over the whole body, paying special attention to areas prone to dry and dead skin (like elbows, knees, feet, and hands). Hold for 35 minutes, then rinse.
 For facial exfoliation, apply it on a clean face in circular motions. Avoid eye areas and areas with open wounds-lemon juice bites! Keep it for 10 minutes, then rinse with cold water. This is an ideal scrub for skin prone to acne or acne scars.
6. Coconut Oil Body Scrub
This coconut sugar scrub is heavenly! This DIY coconut oil sugar scrub recipe has only three ingredients. Sugar, coconut oil, and your other favourite essential oils of your choice. There are no chemicals, no fragrances, and nothing unnatural. And smells very good.
How to use-
To make a coarse paste, combine all the ingredients in a mixing bowl. Do not heat the oil, or the sugar will melt.
 Clean your skin and apply this paste. Use your fingers to massage the mixture onto the skin in a circular motion.
 Gently massage the body to exfoliate for a few mins on each part.
 Wash off the mixture with warm water and moisturise your skin.
7. Rose Petal Scrub
Besides their beautiful fragrance, roses are actually good for the skin. Rose contains vitamin C, which can rejuvenate the skin and prevent future damage. Your natural oils can help increase moisture and have some anti-inflammatory properties. Sounds like the perfect supplement to help my dehydrated skin. (3)
You need-
1 cup almond flour or rice flour
1 tablespoon dried rose petals or hibiscus tea.
How to use
Add enough water to make the mixture a thick paste. Rub into dry skin and remove with a damp cloth.
8. Green Tea Body Scrub
Today, we can find almost everywhere this simple ingredient from grocery stores to cafes. Green tea contains antioxidant properties that can help reactivate cells and fight damaged skin. There are many ways to use green tea in your skincare regime (many companies now use this ingredient in high-quality beauty products). (4)
You need-
2 tablespoon green tea
 1/4 baking soda
1/4 sesame oil
How to use
Mix the ingredients well and apply to wet skin, massage gently for 5 minutes and then rinse off in the shower.
9. Papaya Body Scrub
We often refer papaya to as the "angel fruit". A tropical papaya DIY body scrub is ideal for fighting blemishes and acne. This would be the right exfoliator for you if you're battling acne and need an extra dose of exfoliation. The Vitamin C found in papaya also has anti-inflammatory properties, which is another reason it works great against pimples on the chest or back. (5)
You need-
1 papaya
½ cup ground sea salt
2 tbsp Olive Oil (optional)
How to use
Cut the papaya fruit and blend it into a smooth consistency in a food processor or blender.
Mix half a cup of sea salt into a granular paste and use it as a body scrub.
10. Peppermint Body Scrub
This DIY simple homemade mint body scrub can exfoliate and moisturize at the same time. Your skin will feel refreshed, very soft and luxurious. For the recipe of this body scrub just use the two major ingredients. It takes less than five minutes and is much cheaper than store-bought body scrubs.
You need-
½ cup Coconut Oil
1 cup sugar or salt
1 tbsp peppermint
How to make this homemade body scrub
Mix well and wait until the oil is evenly absorbed.
We will add mint crystals at the end. The effect after exfoliating will be amazing.
11. Avocado Oil and Cucumber Scrub
These nutritious sugar homemade body scrubs can infuse your skin with vitality. We refine avocado oil with a mixture of fresh mint and cucumber to keep moisture during the peeling process. Get rid of dull skin by including this simple DIY body scrub into your weekly beauty routine.
You need-
1 large cucumber, sliced
2 tablespoons fresh mint leaves
2 and a half cups raw sugar
4 tbsp avocado oil
How to use
In a blender, combine the cucumber and mint.
Into a medium bowl add sugar and avocado oil. Stir until combined. (NOTE: if you prefer mixture to be firm, add additional sugar)
Divide mixture between desired storage containers and store in the refrigerator until ready to use. (6)
12. Sea Salt Body Scrub
Salt has antibacterial properties and can help improve certain skin conditions. Salt is also a preservative, so sea salt scrub can be preserved naturally. Use ground sea salt because coarse sea salt is too hard for your skin. Sea salt skin may be too irritating to sensitive skin. Also, if you have a wound on your skin, please be careful because the salt will burn.
You need-
1/2 cup sea salt
Any 1/2 cup oil of your choice
Essential oils (optional)
How to use-
Combine these ingredients and mix thoroughly. Add more salt or oil to get the correct consistency.
Add a drop or two of your favourite essential oil and stir into the mixture.
When you are satisfied with the consistency and smell of the scrub, scoop it into a container.
Homemade body scrubs are quick and easy and are an affordable alternative to store-bought scrubs. These homemade natural exfoliants can be used to cleanse, soften and nourish your skin. Always be gentle when exfoliating your skin and be extra careful if your skin is sensitive or parched.
Please follow and like us: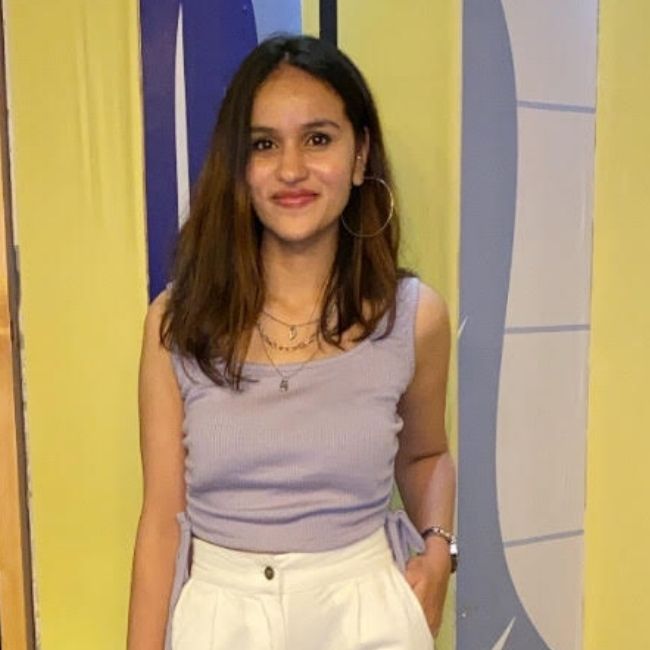 Varsha is a keen content writer with having an interest in writing content on topics like beauty, health & lifestyle. Although she's fairly new, what she likes best about content writing is that it allows her to learn and write about a variety of topics and issues.