Vaseline is such one product that is a very common and affordable thing in this expensive era. It is used in so many ways than only to treat lips and dry skin. Vaseline is a petroleum jelly made with waxes and oils which is why it is a multi-usage product. There are many unique and unknown uses of Vaseline in daily life which needs to be known by everyone out there. In this article, you will find out so many uses of this miraculous product and you will be amazed by it.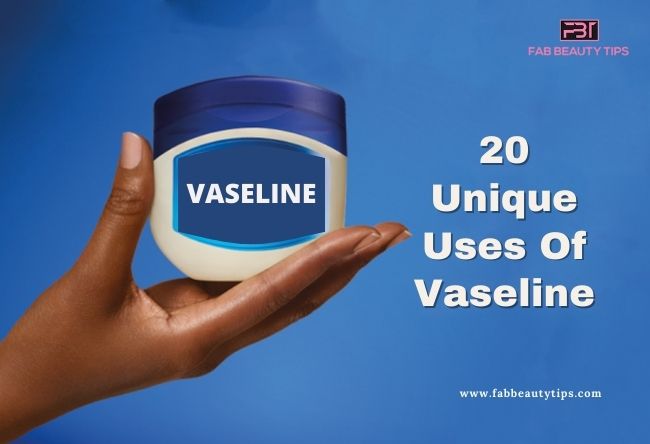 20 UNIQUE USES OF VASELINE
USES OF VASELINE FOR SKIN
1. Plum Lips
If you want to make your lips plum and chapped free then try Vaseline lip scrub once a week. All you have to do is take some sugar and add Vaseline to it. Now mix it nicely and apply to your lips. Massage for 1-2 minutes and wipe it off with a wet wipe or rinse it off with water. Vaseline helps to remove the dead and dry skin from lips and moisturize them. This will increase the blood circulation in the lips and make their plum.
2. Dry Cuticle
we all face the problem of dry cuticles in winters but there are some people who have this problem 365 days. To help them in curing this problem Vaseline is always there. Take some Vaseline and apply it to the cuticle once in the morning and once at night before sleeping. It will moisturize them and make them soft. This will also help in making nails shinier and strong. (1)
3. Highlighter
Many highlighters are expensive and a few are also affordable but of low quality. Low-quality highlighters make skin rough and worse. Sometimes we ran out of our favorite highlighter too, so in that time what you can do is take a very little amount of Vaseline and apply it to the highlighted points of the face. It will give the same result as your favorite highlighter do and on a very affordable budget as one box of Vaseline will be used many times and in many ways.
4. Easy Insertion of Earrings
Inserting earrings sometimes becomes difficult and painful. To solve this problem use Vaseline. Vaseline makes skin soft and it helps in inserting the earrings smoothly and without pain. Just take some Vaseline and rub it on the ear lobe. Insert your stud or any other earrings you want without much effort. (2)
5. Set Eyebrows
Another beauty hack or use of Vaseline is whenever you ran out of your eyebrow pencil or product use Vaseline to shape them and set them. Take some Vaseline and apply it to the eyebrow, now shape your eyebrow with the help of the spoolie. With this, your eyebrow will be set for the entire day. This use is also best for those who don't want to buy expensive eyebrow products and also can't compromise with low-quality products.
6. Relief Dry Patches
As we all know Vaseline is the best moisturizer available at the lowest price and without harming the skin. Applying Vaseline to dry patches on the skin can really help in relieving them. These dry patches caused due to many things or reasons like a cold wind, hard water, etc. apply the Vaseline just after you came out of the shower for better results. (3)
7. Cure Cracks
One more benefit of using Vaseline is it helps in curing the cracked foot. Rub your foot with pumice stone first and wash them off. After your towel dries your foot apply a thick layer of Vaseline on the cracks and some on other parts of the foot and massage for 2-3 minutes. Cover your foot with cotton socks.
8. Heals Sunburns
Vaseline also helps with sunburns and their pain or inflammation on the skin. Just apply some Vaseline on sunburns and leave it like that. Repeat this a few times a day.
9. Removes Waterproof Makeup
Some people cannot use expensive makeup removers due to budget or not suitability to their skin type. Also, there are some people who don't use oils to remove makeup because they get acne issues after that. So, for those Vaseline will remove the makeup without causing pimples or any harm to the skin. Rub Vaseline on your face and massage for a few minutes and clean it with cotton. It will remove your waterproof mascara too.
USES OF VASELINE FOR HAIR
1. Less Frizz
If your hair is frizzy try using Vaseline on them. It will tame the frizz in your hair and will make them healthier. Apply some Vaseline on your hair tips starting from the ear side to the end of the hair. Leave it for 15-20 minutes and wash it off.
2. Split Ends
Vaseline also helps with the problem of split ends. Apply a very little amount of Vaseline at the ends of the hair. It will lock the moisture in and prevents the hair from splitting. And this will also help with hair growth.
3. Prevents Lice
If you want a natural treatment for your lice, try applying Vaseline on the scalp. Vaseline suffocates the lice and when you comb your hair with a comb specially meant for lice, you will see results. But do not apply so much of Vaseline on the scalp or hair because this will make your hair more oily and flat.
4. Manage Curls
Girls with curly hair are always in search of a product that helps them in maintaining their curls without putting lots of chemicals in their hair. You can apply Vaseline on hair and comb them, it will help in moisturizing your curls without any chemicals and also adds shine to them. Just use less amount at a time.
USES OF VASELINE FOR OTHER THINGS
1. Opens Stuck Things
Vaseline apart from solving skin and hair-related problems also opens stuck things like nail paint, any jar, ring, and zipper. Just apply some Vaseline to the stuck zipper and it will glide smoothly. Apply some Vaseline to the finger and slowly pull out the ring without any pain.
2. Helps Remove Makeup from Clothes
Another unique usage of Vaseline is it helps in removing makeup from clothes too. Sometimes we drop the foundation or concealer on our clothes and it will not vanishes with dry clean also, then at that time apply some Vaseline and after 10 minutes clean it with a tissue.
3. Removes Chewing Gums from Tables
Removing chewing gum from furniture is challenging and disgusting work at the same time. Removing it from furniture seems difficult in normal conditions but if you have Vaseline then it can be as easy work as removing the nail paint from nails. Apply a thick layer of Vaseline to the chewing gum and gently rub it with clothing or tissue.
4. Cleans Nasty Food Marks from Furniture
After a party or having food sometimes you notice the marks of dropped food like gravy or some sauce on the furniture, which may be leaving the stain or make the furniture dull is not okay. So in these types of situations what you have to do is apply some Vaseline to the stained furniture and allow it to dry for some time. After a few minutes clean the Vaseline with a cloth and see if the stains are gone.
5. Adds Shine to Leather
After buying a leather bag or shoes and after using them many times we notice that they become dull and their shine is also lost. In those cases apply some Vaseline on them and leave it for a few minutes and clean it with a cotton cloth. Vaseline adds the lost shine to the leather.
6. Prevents Handbags from Creases
When we store our handbags in the folded form we see that the bags start to crease from the folded side. To make it crease-free apply some Vaseline and then store them in whatever form when you want to use them clean the Vaseline, they will look the same when bought.
7. Guard for CDs and DVDs
CDs and DVDs are the things in which we store our important data and we want to secure them from scratches. Apply some Vaseline with a cotton ball on the CDs or DVDs to prevent any scratches.
With so many uses of Vaseline, it becomes a must-have in our homes. Heals sunburns, protect furniture, make things new and so much. Add the Vaseline to your shopping cart now.
Please follow and like us: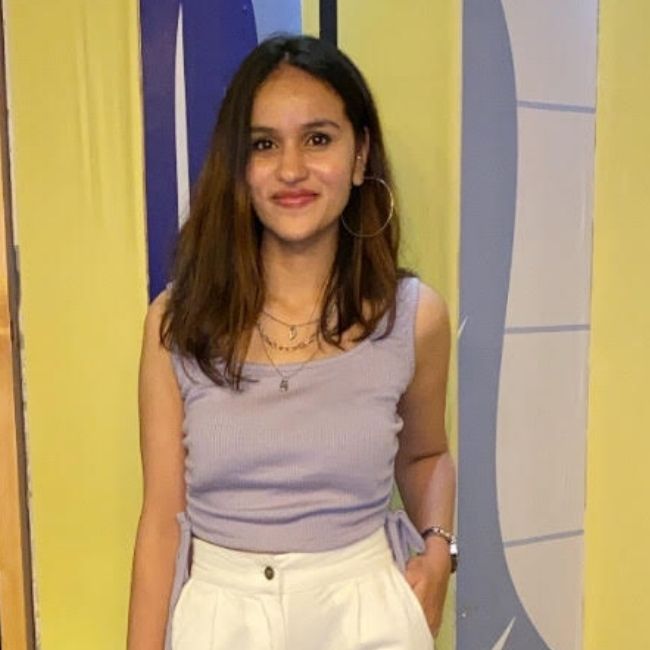 Varsha is a keen content writer with having an interest in writing content on topics like beauty, health & lifestyle. Although she's fairly new, what she likes best about content writing is that it allows her to learn and write about a variety of topics and issues.