Mulberries are nutritious unique flavored fruit that is a powerhouse of antioxidants and essential nutrients like iron, vitamin C, vitamin K, calcium, phosphorus, potassium, and significant amounts of organic compounds and dietary fiber that have multiple health benefits. Mulberries for skin help you to keep your skin blooming and free of wrinkles.
These colorful berries can be consumed in both fresh and dried form and are also one of the most preferred flavors in jams, sherbets, jellies, wines, and teas. It also possesses various other benefits that are listed below.
23 Amazing Benefits Of Mulberries (Shahtoot) For Hair, Skin, And Health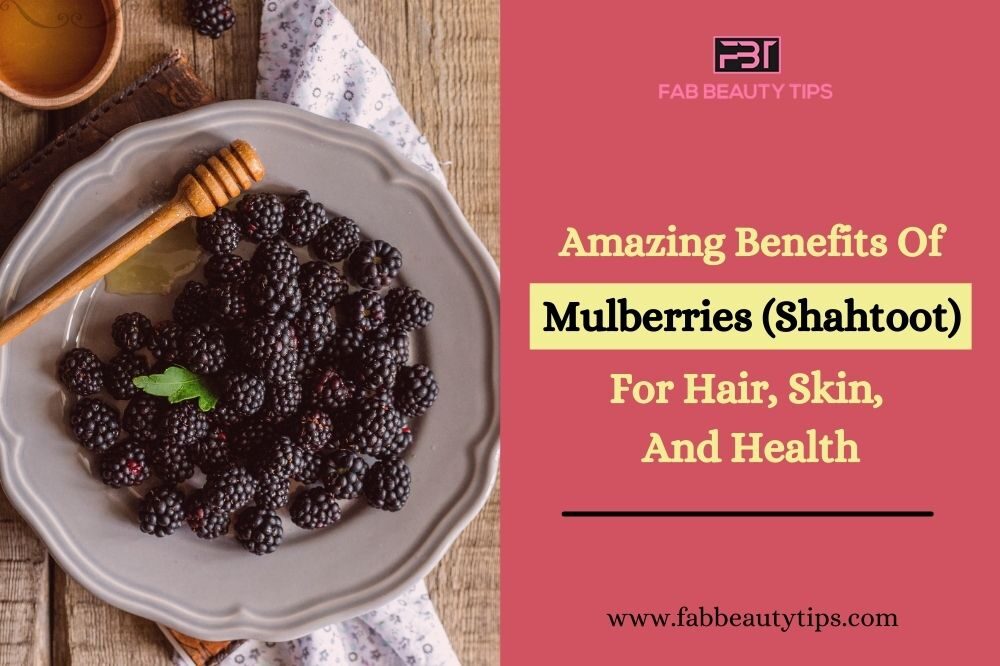 23 Amazing Benefits Of Mulberries (Shahtoot) For Hair, Skin, And Health
1. Powerhouse of Antioxidants
Mulberries are the powerhouse of antioxidants that have the tendency to reduce the damage caused by free radicals. This bioactive compound has positive effects on the skin, hair, tissues, and other body parts and promotes healthy hairs, skin, and body.
2. Supports The Immune System
Mulberries are rich in vitamin C which acts as a powerful weapon against foreign particles in the body. It also contains alkaloids that stimulate the immune system keeping it strong to fight against illness and infections.
3. Healthy Blood Sugar
Mulberries are high in anthocyanin compounds. It helps in balancing the blood sugar levels by breaking down sugar and helping it get absorbed in the blood. Mulberry leaves are also used in medicine due to their property of supporting healthy blood sugar (1).
4. Multi-Nutritious Food Snack
Dried mulberries have protein, vitamin C, fiber, and iron and can be enjoyed as a healthy snack. The best part is that it is easily available in health food stores. It is best during winter time but in summers, it can be consumed in limited amounts to get the desired nutrients in an advisable amount.
5. Cures Redness
In traditional times, mulberries were used as a natural remedy to cure swelling and redness. It is also known to cure all sorts of irritation, prevent redness, and have many other skin benefits.
6. Improves Brain Health
Mulberries also help in brain protection. Oxidative stress is one of the key components that accelerates the aging process and negative impact on the brain. By consuming mulberries, the chances of getting oxidative stress decrease, hence promoting better memories (2) (3).
7. Digestive Health Improvement
Mulberries contain dietary fiber that aids in digestion. The dietary fiber improves the digestion process and is helpful in relieving constipation, bloating, and cramping. Mulberries are also a great source to lose weight (4).
8. Lower The Cholesterol
Mulberries are known to prevent cardiovascular diseases like heart attacks, strokes, and atherosclerosis by lowering the bad cholesterol level in your body. Regular consumption of mulberry leaf powder or mulberry leaf tea supports the reduction of LDL (bad) cholesterol levels (5).
9. Reduces Cancer Risks
Since mulberries are rich in antioxidants. These antioxidants and phytonutrients act as super defenders against free radicals and help in eliminating the growth of cancer cells. The different range of antioxidants in blueberries neutralizes the free radicals rapidly before the damage is done (6).
10. Improves Blood Circulation
Mulberries have a high level of iron that boosts the production of red blood cells. This enables the body to distribute oxygen to important organs and tissues. Thereby, it improves the function of blood vessels by controlling blood flow with improved metabolism.
11. Cures Anemia
Mulberries are rich in iron which helps in curing anemia. It is also helpful in curing the anemia symptoms such as fatigue and dizziness. It has been used as a folk medicine to treat anemia and other iron deficiency disorders (7).
12. Good For Vision
Since mulberries are a rich source of vitamin A, it helps in improving your eye vision. Drinking mulberry juice every day will help in strengthening your eyesight and removing eye- strain (8) (9).
13. Helps In Building Bone Tissues
Mulberries contain iron, vitamin K, calcium, and fibers. They are an add-on advantage as their nutrients help in building muscle fiber, thus building strong bones and bone tissues. It is also helpful in preventing bone disorders such as rickets, arthritis, etc.
14. Prevent Flu And Cold
Intake of mulberries either as a fruit or in the form of juice will help you to fight against cold and flu. Mulberries have a higher concentration of antioxidants than oranges and cranberries which aids the immune system against cold viruses.
15. Promotes Healthy Liver
Mulberries are yet another form of blood-purifying tonic that purifies the blood in the liver. Mulberries have the tendency to strengthen the liver as the iron content in the mulberries helps in promoting a healthy liver.
16. Effective Anti-Aging Agent
Mulberries contain resveratrol that protects the skin from harmful environmental conditions (10). Being rich in antioxidants vitamins A, C, and E help in reducing the free radicals that are the main culprits of aging. Thus, it also gives you healthy, glowing, youthful, and wrinkle-free skin(11).
17. Clear Out Dark Spots And Blemishes
Mulberries are highly recommended by skin experts when it comes to clearing out dark spots and blemishes. The white mulberry leaves contain a high amount of antioxidants, vitamins, and nutrients. Thus these nutrients give you a healthy, radiant, and smooth skin complexion. It also helps in maintaining the elasticity of the skin (12).
18. Treat Dry And Sensitive Skin and Scalp
Lack of Vitamins A, C, and E cause the skin to dry. Mulberries are packed with multi nutrients that heal dry and sensitive skin. It also hydrates it from within resulting in smooth and healthy skin and hair scalp.
19. Promotes Healthy Heart
Mulberries contain essential mineral-potassium and iron. Potassium helps in lowering blood pressure and reducing the risk of heart diseases thus promoting a healthy heart. Whereas, iron helps in transporting oxygen throughout the body, keeping the heart-healthy.
20. Retention Of Natural Hair and Skin Color
The nutrients found in mulberries help in preventing the early graying of hairs. It has the tendency to enhance the melanin production that gives the hair and shin their natural color. Therefore, drink mulberry juice every day to retain the natural color of the hair and skin.
21. Promotes Hair Growth
Mulberries are very effective in dealing with hair concerns such as hair loss. The vitamins, antioxidants, flavonoids, and phytonutrients strengthen the hair follicles. Thus they are also very beneficial in promoting hair growth and effectively controlling the concern of hair loss.
22. High Source of Fiber
Mulberries are an ideal source of both soluble and insoluble fiber. Therefore, soluble fiber helps in reducing cholesterol levels and maintaining blood sugar, while insoluble fiber promotes a healthy digestive system. Dried mulberries are yet another way to boost the fiber content in your diet.
23. Speeding Up In Recovery
For post-operative patients, mulberry juice is a blessing as it speeds up the healing process, improves blood circulation, and prevents the inception of infection. It also acts as an accelerator for recovery after birth and anti-inflammatory post-surgery.
24. Vitamins and Minerals
Mulberries are an excellent source of various vitamins and minerals such as vitamin C, K. E, potassium, zinc, and iron. These vitamins provide numerous health benefits for hair and skin such as promoting blood clotting, bone health, reducing oxidative damage, rejuvenating skin, and promoting healthy hair.
There are many different ways that you can use mulberries in your diet. The fruit and leaves have equal beneficial properties that you can use to promote overall health. If you are looking for a natural way to cleanse your body, get glowing skin and have strong, healthy hair, mulberries are the best choice. Every part of your body benefits from these amazing berries, so it is a must to add them to your diet!
If you love this article don't forget to comment below and let us know if you love to eat mulberries. Do share this article with your friends too.
Thank You.
Please follow and like us: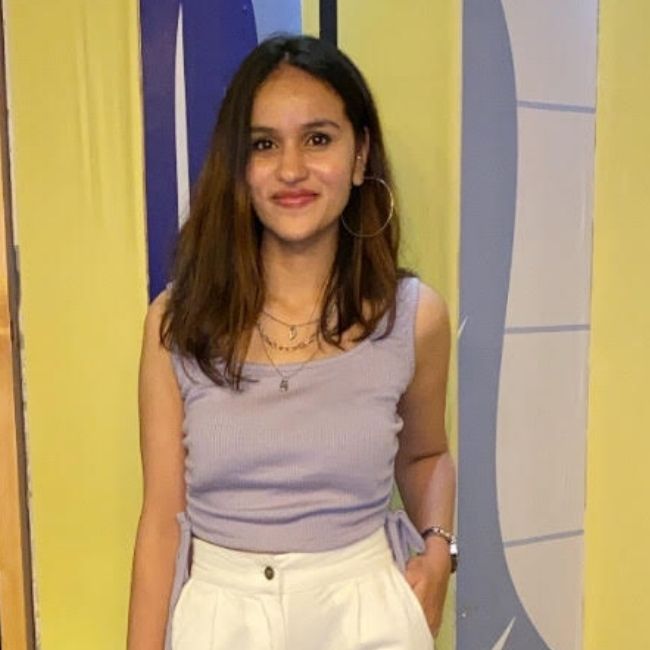 Varsha is a keen content writer with having an interest in writing content on topics like beauty, health & lifestyle. Although she's fairly new, what she likes best about content writing is that it allows her to learn and write about a variety of topics and issues.