Many ladies take excellent care of their skin, frequently moisturizing it and putting only the best products on it. Somehow, it's easy to forget about the neck, which receives almost the same amount of exposure to everything as the skin on the face, until you eventually glance in the mirror and discover that something isn't quite right; your neck is noticeably darker than it used to be and now how can you get rid of dark neck is your first thought.  Also, hyper pigmentation is a term used to describe the darkening of the skin in certain regions.
But have you ever wondered why your neck is so dark? Poor hygiene might be the major cause of a dark neck. Chemicals in cosmetics, pollution, and even diabetes are some of the other causes. But don't worry! All you have to do now is go to your kitchen and make some home remedies for dark necks.
How To Get Rid Of Dark Neck: 12 Effective Home Remedies
How To Get Rid Of Dark Neck: 12 Effective Home Remedies
1. Aloe Vera Gel for Dark Neck
Antioxidant-rich aloe vera lightens the skin by suppressing the action of the enzyme that causes skin pigmentation. It also keeps the skin moisturised and nourished. (1)
How to use- All you have to do is take some gel from an aloe vera plant. Scrub it on your neck for a few minutes before rinsing it off. This is something you can do on a daily basis.
2. Tea Tree Oil for Dark Neck
According to an expert, using tea tree oil into your daily routine will not only help you achieve healthier and more radiant skin, but it will lighten your skin pigmentation.
How to use- Combine 4 teaspoons of Tea Tree Oil and 1 tablespoon Almond Oil in a spray bottle. Shake it thoroughly. Spray a large amount of the mixture on your neck and let it dry naturally.
3. Orange Peel for Dark Neck
Fiber, vitamin C, folate, vitamin B6, calcium, and other important elements are rich in orange peels.  It is one of the best remedies for a dark neck. In no time, you'll have clear, depigmented skin.
How to use- Simply peel some oranges and dry them out in the sun. In a food processor, grind it. To make a paste, add a little raw milk to it. Apply the paste on your neck and wait 10 minutes. For best results, do this every day.
4. Yogurt for Dark Neck
Natural enzymes in yoghurt work in combination with the acids in lemon to produce the desired outcomes. Yogurt helps to lighten your dark neck. It also hydrates and smooths the skin. (2)
How to use- 2 tablespoons yoghurt, 1 teaspoon lemon juice Combine the two ingredients and apply to  the neck. Allow for a 20-minute soak before washing with water.
5. Cocoa Butter
This excellent product gives your skin much-needed nutrients, resulting in a healthier and lighter skin tone. Cocoa butter is known for reducing dark spots and uneven skin areas.
How to use- Combine the butter, milk powder, and honey in a small bowl and gently massage it into your dark neck. After 15 minutes, carefully wash it away with water. Your neck will be smooth and light as a result of this.
6. Oatmeal Scrub
Oatmeal is a fantastic skin scrubber that also helps exfoliate the skin. Oats are excellent for reducing the dark complexion that occurs and you can use this remedy if you want to get rid of dark neck.
How to use- You can make this oats scrub using these two ingredients.2 teaspoons oats and 4 tbsp pureed tomatoes. To make a paste, combine the oats and tomato puree in a bowl. It should be applied to your neck and left for 20 minutes. After that, gently massage it and cleanse it. (3)
7. Baking Soda for Dark Neck
One of the most effective ways to lighten your dark neck is to use baking soda. Baking soda acts as an exfoliator and aids in the removal of dead skin from your neck. It also improves the skin's blood circulation.
How to use- Make a smooth paste with 2-3 teaspoons baking soda and adequate water. Apply this paste to your neck and wait for it to dry. Scrub it off with moist fingertips after it has dried fully. Rinse the area with water now. Make sure your skin is well moisturised.
8. Potato Juice for Dark Neck
Potatoes have bleaching qualities that help to lighten your skin and level out your skin tone. With this treatment, the dark patches and spots will start to go away quickly.
How to use- To begin, grate one small potato and squeeze out all of the liquid. Apply this liquid to the affected regions using a cotton ball. Allow it to dry completely before rinsing it with water.
9. Apple Cider Vinegar
The pH level of the skin is balanced by apple cider vinegar, which gives it a natural shine. It aids in the removal of dead skin, and the vinegar's malic acid acts as an exfoliant. (4)
How to use- Simply combine 2 teaspoons of apple cider vinegar with 4 tablespoons of water and whisk thoroughly. Use a cotton ball to apply the solution and let it on for 10 minutes. Rinse it with water after it's finished.
10. Cucumber for Dark Neck
Cucumber contains skin-repairing qualities and may be used to cure blemishes and dark spots in addition to relaxing and calming the skin. Cucumber's anti-inflammatory qualities calm your skin at the lowest level, allowing blemishes to disappear.
How to use- Peel and slice a cucumber into a bowl. Refrigerate the slices for at least an hour before serving. Rub the cool cucumber slices on your neck until the juice seeps out. Rinse with water after letting it sit for 10 minutes.
11. Gram Flour for Dark Neck
Many young women use Besan (gram flour) to make their skin glow. It has the ability to act as a natural exfoliant. Besan can also be used to brighten the skin around your neck if it has become too dark.
How to use- Make a paste with the gram flour and turmeric by adding water. Apply the cream on the dark area and let it on for 20 minutes or until it dries. Scrub the mask off with your fingers while submerged in water. Rinse, pat dry, and moisturise thoroughly. Three times a week, do this.
12. Lemon juice for Dark Neck
The skin-lightening effects of lemon juice are incredible. It's no surprise that lemon juice is regarded as one of the most effective natural treatments on how to get rid of dark neck. Citric acid, which is found in lemon juice, has natural bleaching effects. Lemon juice also contains vitamin C, which helps to eliminate dead skin cells from the neck and brighten a dark neck.
How to use- Lemon juice and rose water should be mixed in equal amounts. With the help of a cotton ball, apply it to the neck. This is something you can do before you go to bed. The next morning, rinse off with cold water. To get spectacular results, do this every day for a month.
Please follow and like us: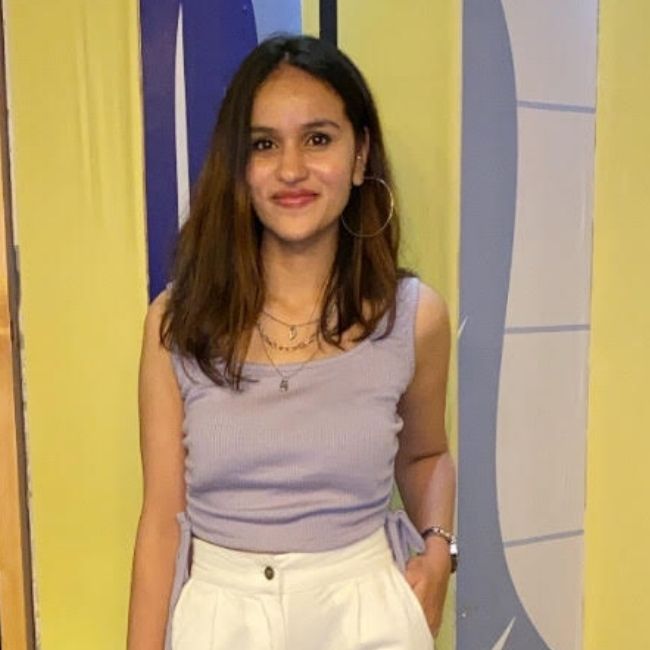 Varsha is a keen content writer with having an interest in writing content on topics like beauty, health & lifestyle. Although she's fairly new, what she likes best about content writing is that it allows her to learn and write about a variety of topics and issues.