Dandruff is a fairly widespread problem in today's society, affecting individuals of all ages, from children to adults. However, most of us are having difficulty finding a treatment. Most of us have tried anti-dandruff products from the market, but they often promise more than they provide. But don't worry, we've got you covered! Garlic for hair can help you get rid of dandruff–yes, it's true.
Garlic is an ancient home remedy for a variety of health and skin problems. It is high in antioxidants and phytonutrients, which boost your immune and help you avoid skin infections and other health problems. It is known to prevent disorders such as dandruff and seborrhoeic dermatitis. Garlic applied to the scalp can help to reduce sebum production and enhance blood flow. This is how it gets rid of flaky skin and strengthens your hair's roots. Garlic juice also prevents hair loss and helps your locks seem lustrous and thick. (1)
Garlic For Dandruff–How To Use, Benefits, Risks
Home remedies on how to use garlic for dandruff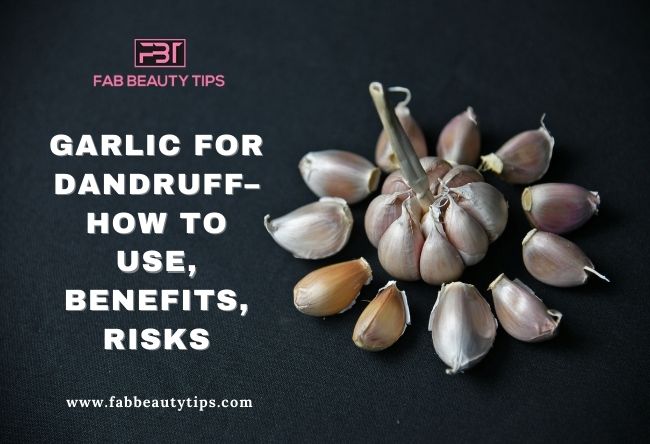 Garlic For Dandruff–How To Use, Benefits, Risks
Home remedies on how to use garlic for dandruff
1. Honey and Garlic For Dandruff
Honey has antifungal and antibacterial effects in abundance. When mixed with garlic, it is quite effective in the treatment of dandruff.
You need-
4 garlic cloves
2 tbsp honey
How to use-
Use garlic cloves to make a paste, add honey and combine.
Massage this mixture into your scalp for 10 minutes, then leave it on for another 20. Wash with a gentle shampoo.
2. Aloe Vera and Garlic For Dandruff
We all know how versatile aloe vera is as a component that may treat a variety of skin problems, including dandruff. Aloe vera moisturizes our scalp and, because it has antibacterial and antifungal characteristics, it relieves itching and dandruff.
You need-
3 tbsp garlic paste
2 tbsp aloe vera gel
How to use-
To make a smooth paste, combine both ingredients and apply to your scalp before wrapping your hair in a hot towel.
Apply the hair mask to your scalp and let it on for 10-15 minutes before washing it off with a moderate shampoo.
 3. Apple Cider Vinegar Hair Mask
Apple cider vinegar's acidity alters the pH of your scalp, making yeast growth more difficult. This aids in the reduction of dandruff.
        You need-
2 tbsp apple cider vinegar
1 tbsp garlic paste
  How to use-
Mix all the ingredients in a bowl and make a smooth paste.
4. Yogurt and Garlic Hair Mask
Because of its amazing conditioning characteristics, yoghurt will soften knots more efficiently. In combination with coconut oil, this hair mask can help you get rid of dandruff and itchy scalp. Hair might become shinier and softer with regular use.
You need-
2 tsp garlic powder
5 tbsp yogurt
Coconut oil
Water
How to use-
Mix all the ingredients and add a little water.
Apply the mask on the scalp and leave it for 30 mins
5. Lemon and Garlic For Dandruff
Garlic and lemon kill germs and fungus that cause infections, itching, dryness, and dandruff on the scalp. Lemon is high in vitamin C, which aids in hair cell growth.
You need- 
 How to use-
Squeeze the lemon juice and mash the garlic cloves and crush them to get the juice. Combine all the ingredients in a bowl and apply to your scalp.
Potential Risks of Garlic
When used as part of a balanced diet, we consider garlic safe for most individuals. However, depending on how much garlic you consume, you may have moderate side effects such as heartburn (particularly in pregnant women who consume high amounts of garlic), vomiting, increased perspiration, 'garlicky' body odour, disorientation, upset stomach, and a burning feeling in the mouth. If you plan to use garlic topically to treat dandruff, you should know applying garlic to the skin or scalp might cause skin irritation in persons who have sensitive skin.
Garlic allergy responses have also been observed, however, they appear to be quite rare. Garlic intolerance or allergy can cause ulcers in the mouth and throat, skin rashes, and even respiratory issues (such as a runny nose, wheezing, or sneezing). Stop using garlic as a dandruff cure if you develop an allergic reaction to it.
Please follow and like us: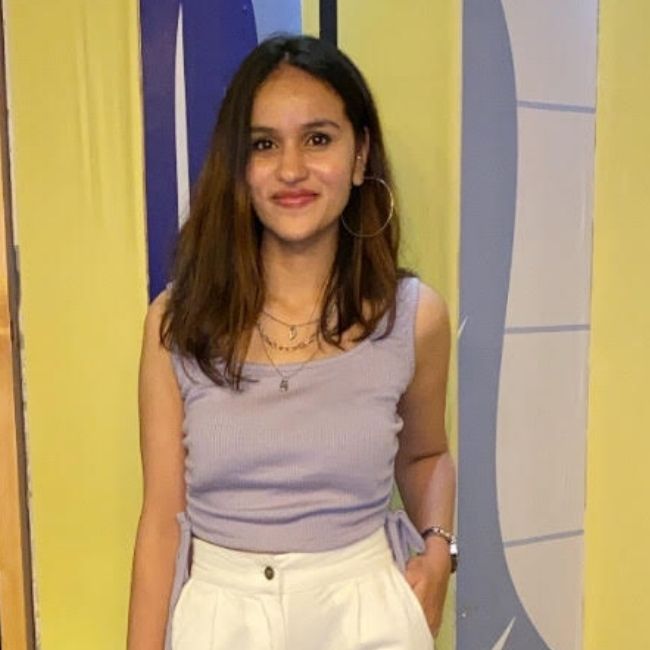 Varsha is a keen content writer with having an interest in writing content on topics like beauty, health & lifestyle. Although she's fairly new, what she likes best about content writing is that it allows her to learn and write about a variety of topics and issues.