Who wants to look aged and dull at an early age? The answer is nobody. Having signs of aging like fine lines, wrinkles, and sagging skin sometimes reduces our confidence in ourselves. Before treating the problem of wrinkles or fine lines we have to know what the main causes of it are, what are the symptoms, and some home remedies, and prevention?
So, this article will be going to help you in understanding all the things and giving you some solutions of it too.
Causes, Symptoms and Prevention of Wrinkles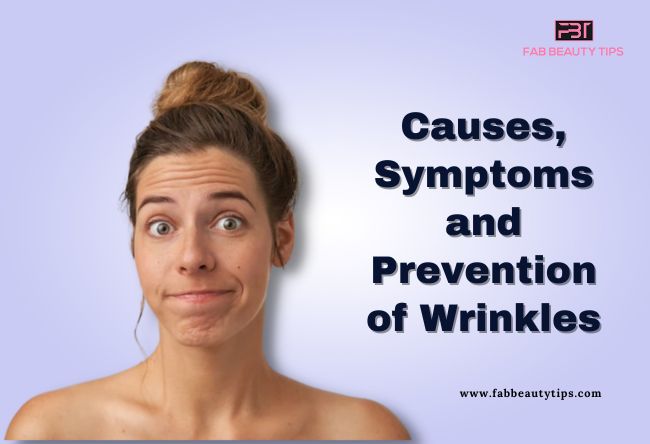 Causes, Symptoms and Prevention of Wrinkles
CAUSES OF WRINKLES
1.      Sun Exposure
Excess skin exposure to the sun will cause wrinkles on the skin. The harsh UV ray of the sun goes deep into the skin and it appears on the outer surface in the form of wrinkles some time.
2.      Smoking
Smoking is not good for the skin too. It extracts oxidization from the skin and makes it look dull and lifeless. This will start showing wrinkles and fine lines on the face or other parts of the body. It starts showing its bad effects on the eyes from the very beginning.
3.      Dehydration
If you are facing wrinkles at an early age, then keep a check on your hydration level. Dehydration in the body also became the main cause of appearing of wrinkles on the skin.
4.      Stress
Having stress on a daily basis will become a cause the wrinkles on the skin. Working in a stressed situation, having the stress at work or home will affect your health and it affects your skin too. It will make the skin age and old. Any kind of stress will affect the skin.
SYMPTOMS OF WRINKLES
1.      Fine Lines
Before making the final appearance wrinkles start to show their symptoms. The first sign is the appearance of fine lines around the eyes, mouth area, and the neck.
2.      Skin Sagging
Before appearing wrinkles skin starts sagging a little and loses its elasticity.
3.      Loose Skin
It is another symptom of wrinkles. Your skin starts losing and the elasticity level of the skin decreases. This will also causes because of the lack of collagen present on the skin.
RISK FACTORS OF WRINKLES
1.      Age above 40
If you are 40 or older then there are 70 to 80% chances of having wrinkles on your skin mostly around your eyes, mouth, forehead, and neck area. Aging is the main cause or factor of wrinkles.
2.      Pollution
Pollution is another risk factor for wrinkles. It damages our skin to the deep and destroys the cells which protect it from showing signs of aging like wrinkles and fine lines.
3.      Smoking
If you smoke or are addicted to smoking then it may cause you wrinkles early in your age. Smoking destroys the skin elasticity and reduces the collagen level in the skin which is the reason for wrinkles.
4.      Repeated Facial Expressions
Some say to express your emotions in the same way as you always do. But repeating the same facial expressions, again and again, will also become a risk factor for your skin and it may take the shape and it looks like wrinkles and fine lines.
5.      Genetic
Sometimes the appearance of wrinkles is genetic, which means having wrinkles on the skin is in the genes of some people. So if you are one of them, then your genes are the main risk factor for your concern about wrinkles.
6.      Poor Diet
One of the main reasons or factors for having wrinkles is poor diet. If your body is lacking some nutrients then it will show on your skin. A lack of collagen, protein, and omega factors will cause wrinkles and make your skin look saggy.
HOME REMEDIES FOR WRINKLES
1.      Coconut oil
Take a few drops of coconut oil and massage it on the skin where you see wrinkles. Massage for a few minutes and then leave it on overnight. Do this daily. This will moisturize your skin and helps in reducing them. (1)
2.      Lemon and Honey
You Need: 1 tbsp honey and a few drops of lemon juice.
How to Use: Mix lemon and honey. Apply it to wrinkles and leave it for 20 minutes. Do this daily.
Why: honey helps in moisturizing the skin whereas lemon helps in giving vitamin C nutrients to the skin. (2)
3.      Yogurt Mask
You Need: 2 tbsp plain yogurt.
How to Use: Take some yogurt and apply it to the face and neck. Massage it for a few minutes and leave it for 20-30 minutes. Wash it off with cool water. Do this daily.
Why: It contains good bacteria and lactic acid which help in hydrating the skin and keeps it moisturized for a long time.
4.      Aloe Vera Mask
You Need: 1 tbsp aloe vera gel or fresh aloe leave.
How to Use: Cleanse your face and dry it with a towel. Now take the aloe vera gel and apply an even layer on the face, especially on the wrinkled areas. Massage it for a minute and leave it overnight. Wash your face with plain water the next day and apply a good moisturizer. Do this daily.
Why: Aloe vera is known for treating wrinkles, fine lines, and stretch marks because of its hydrating and moisturizing properties. (3)
5.      Turmeric Mask
You Need: 1 tsp turmeric and 1 tsp milk cream.
How to Use: Mix turmeric and milk cream. Apply it to the face and neck. Massage it for 5 minutes and then keep it on for 20 minutes. Wash it off with lukewarm water and pat dry. Do this daily or on alternative days.
Why: Turmeric heals the skin from within and milk cream helps in moisturizing the skin from the deep and it also makes the skin soft. (4)
MEDICAL TREATMENTS
1.      Botox
Botox treatment is done by injecting the muscles of the face. It lessens the appearance of wrinkles on the skin by blocking the nerves. With this the muscle cannot move and by this, the skin wouldn't sag and the wrinkles will never show.
2.      Fillers
There are many types of fillers available for treating wrinkles. It gives you the youthful look by reducing or treating the wrinkles present on your skin. The result of them will last from 4 months to 1 year depending on the type and care you do.
3.      Laser Treatments
This is the safest and the most reliable method of treatment for treating wrinkles. It removes the wrinkles in a very precise manner by removing them one layer at a time.
4.      Deep Peels
Deep peels or chemical peels reduce the appearance of wrinkles on the skin by using some chemical solutions on it. It removes the outer or the top most layer of the skin and thus making the skin look smooth and wrinkles-free or with fewer wrinkles.
5.      Vitamin A Acid
Vitamin A acid fights with the free radicals, and rough and dead skin which may cause wrinkles and fine lines. It increases the collagen in the skin. You can take some medicines, injections, or serums to get vitamin a. retinol is an easily available form of vitamin A acid.
6.      Antioxidants
Antioxidants help the skin to look young and smooth. It also helps with wrinkles, fine lines, and signs of aging. There are so many supplements available in the market, which help in getting the required antioxidants for the skin.
PREVENTION
1.      Avoid Excessive Sun Exposure
To take care of the wrinkles or avoid the early appearance of them on the skin avoid sun exposure. Go out if it is really important otherwise stay at home or in the shadows.
2.      Use Sunscreen
Avoid getting wrinkles by using sunscreen. Harmful rays of the sun damage the skin and will cause aging signs. It helps in controlling wrinkles.
3.      Moisturize the Skin
Moisturizing your skin helps in providing the skin hydration which kept it soft and smooth. It also delays the signs of aging, wrinkles, and fine lines.
4.      Avoid Alcohol
Alcohol also causes wrinkles on the skin. Consuming excessive alcohol dehydrates the body and it makes space for the wrinkles and fine lines which become deeper with passing time. Lessing alcohol will help in preventing the wrinkles in early stages.
5.      Stop Smoking
Smoking too dehydrates our body and makes skin look dull and lifeless. Quitting smoking will help you with reducing and preventing wrinkles.
6.      Sleep
Sleep is really important for the skin as well as for health. If you can't get proper sleep it will reflect on your skin. You will the wrinkles and dark circles around your eyes. Sleep at least for 8 hours to prevent wrinkles.
7.      Reduce Intake of Sugar
Excessive sugar intake also causes wrinkles. It fastens the process of aging and reduces the collagen in the body.
These are some important points and their treatments. If you are facing a wrinkles problem keep these points in mind.
Please follow and like us: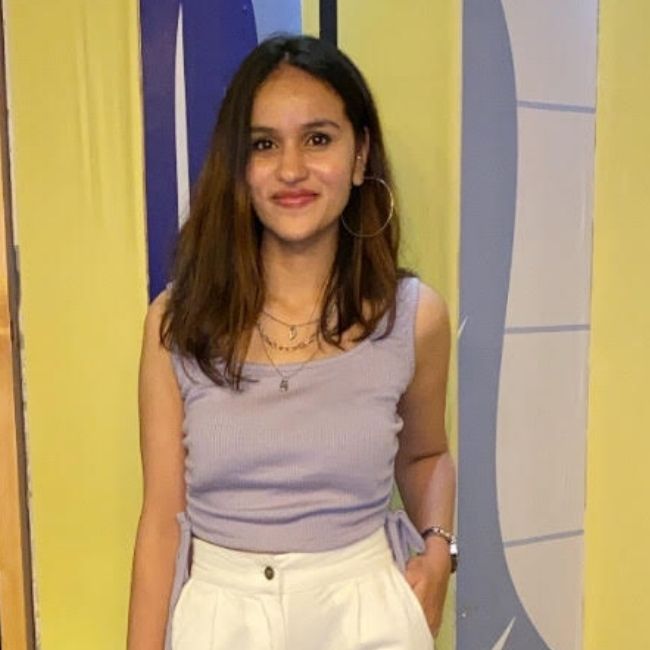 Varsha is a keen content writer with having an interest in writing content on topics like beauty, health & lifestyle. Although she's fairly new, what she likes best about content writing is that it allows her to learn and write about a variety of topics and issues.