Do you want silky, shiny, and gorgeous hair? Are you tired of your boring, dull, and lifeless hair? If yes then you are on the right way, give a read to this article and find out some amazing tips to improve hair texture. If you don't know your hair texture and type you should first be clear about the texture and type of hair.  So here are some ways that help you know your hair type and how to improve your hair texture.
Hair Texture
Hair types
How to improve hair texture?
What does adding texture to hair mean?
Can we change the texture of our hair?
What causes bad hair texture? 
Hair Texture
The texture of the hair is determined by the thickness of your hair strand and the condition of the cuticle. Whether the hair is wavy, straight, or curly type,  the are three textures – medium, fine or thin, and thick.
Fine or thin hair
Fine or thin hair looks translucent in the light. When you roll a strand of thin or fine hair you hardly feel it and it feels like a strand of silk. They are of silky type,  so making hairstyles is a bit difficult for fine hair types of people.
Medium hair
Medium hair is neither coarse nor fine. When the hair strand is between the index finger and thumb, you would feel the strand like a cotton thread. They do not tend to break easily. They are of bouncy type.
Thick hair
Thick hair is also called as coarse hair. When you rolled a strand of hair between your index finger and thumb you feel it wiry and hard. It is considered the strongest of all hair textures. They can hold several hairstyles quite well which helps you to look good.
Hair types
Same as hair texture, human hair also is of different types. There are four types of hair – Straight, Wavy, Curly, And Tightly curled.
Straight
These types of hair are naturally straight. They are shiny and oily because they have no curls. There are three subcategories.
Flat from the root up to the tips.
This group is not completely flat and will hold curls.
This category of hair is straight, has a body and few areas are wavy. This type of hair blends slightly.
Wavy
These are naturally wavy. This type of hair is neither oily nor dry. These are also of 3 categories. The first kind has loose and natural waves all over the scalp. The second kind has waves, this type of hair doesn't have a bounce. The third kind also has waves that form loose spiral curls. These are of a frizzy type.
Curly
This type of hair is  S-shaped and curled naturally. They tend to be dry and the natural oil found on the scalp is not heavy. This hair also has 3 subcategories. The first kind is silky and curly. The second hair is of spiral and springy curls and is extremely frizzy. The last kind of hair has oily curls; they are closely packed and look clumpy.
Tightly Curled
These hair are tightly curled and coiled type. They keep their shape whether wet or dry. Natural oil does not come down to tips. They feel wiry and dry. They shrink by more than half of their real length.
How to improve hair texture?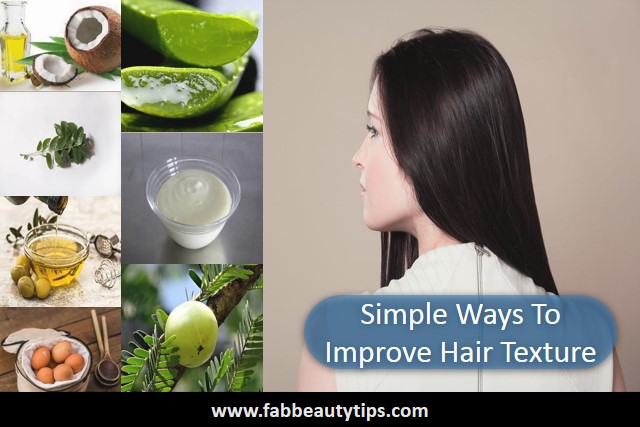 1. Coconut oil
Coconut oil helps to improve the texture of the hair. It has good properties to moisturize the scalp, helps to grow hair, and protects the hair from breakage and split ends.
How to use
Massage coconut oil into your scalp and hair. Keep it for 1 hour and then wash it with the mild shampoo. Don't forget to apply the conditioner. Or you can mix coconut oil with any hair mask.
2. Amla
Amla improves hair texture to an extent. It is rich in antioxidants and vitamin c, which are necessary to improve hair texture. Using Amla powder or raw Amla gives you shine and improves hair growth also.
How to use
Apply amla powder by mixing in some kind of hair packs.
3. Aloe Vera
Aloe Vera is enriched with so many nutrients which help you to gain healthy hair. It promotes hair growth, adds shine to hair, makes them strong by root, prevents split ends and frizziness and it definitely improves hair texture.
How to use
Apply it directly or by mixing in some kind of hair packs.
4. Olive oil 
The easiest way to improve hair texture and treat dull hair is by applying olive oil to the scalp and hair. Olive oil is enriched in vitamin E, which helps hair to grow fast and make them thick.
How to use
Massage olive oil to your scalp and hair. Keep it for 1 hour and then wash it with the mild shampoo. Don't forget to apply the conditioner.
5. Eggs
For any problem of hair, there is a perfect solution that is an egg. The presence of protein in eggs is necessary for improving the hair texture and also makes the hair shiny and soft. It makes the hair silky and also improves hair texture and hair growth too.
How to use
Eggs can be applied directly or by mixing in some hair packs.
6. Curry leaves
Curry leaves are full of benefits for the hair. They treat damaged hair, cut hair fall and thinning, prevent premature hair greying, and much more.
How to use
Curry leaves can be applied directly by making paste or powder or can be used in any oil for the hair.
7. Yogurt
It is a multivitamin-rich food that has a high level of lactic acid that is quite beneficial to treat dry and damaged hair. Yogurt helps to get rid of dandruff, tame hair frizz, add shine to dull hair, and last but not least reduces hair fall.
How to use
Apply it directly or by mixing in some kind of hair packs.
These seven simple and easily available items will give you the perfect hair by improving the hair texture. Follow these tips regularly and make people jealous of your healthy and shiny hair.
FAQ on how to Improve hair texture
1. What does adding texture to hair mean?
When you add texture to your hair, you're trying to give it more body and visual distinction.
2. Can we change the texture of our hair?
Unfortunately, you can't change the texture of your hair, but as it grows, you may notice certain changes. The weight of your hair might cause your curls to stretch, making them look looser as it grows longer.
3. What causes bad hair texture?
The color and texture of your hair might vary over time due to a variety of reasons. Stress, chemical hair treatments, heat styling, heredity, age, medical problems, and sickness are just a few of the factors.
---
I hope this has helped you in a way if you want regular short tips on beauty and health and facts related to both don't forget to follow us on Instagram, Facebook & Twitter. And do leave your comment below and share it with your friends, Thank You.
---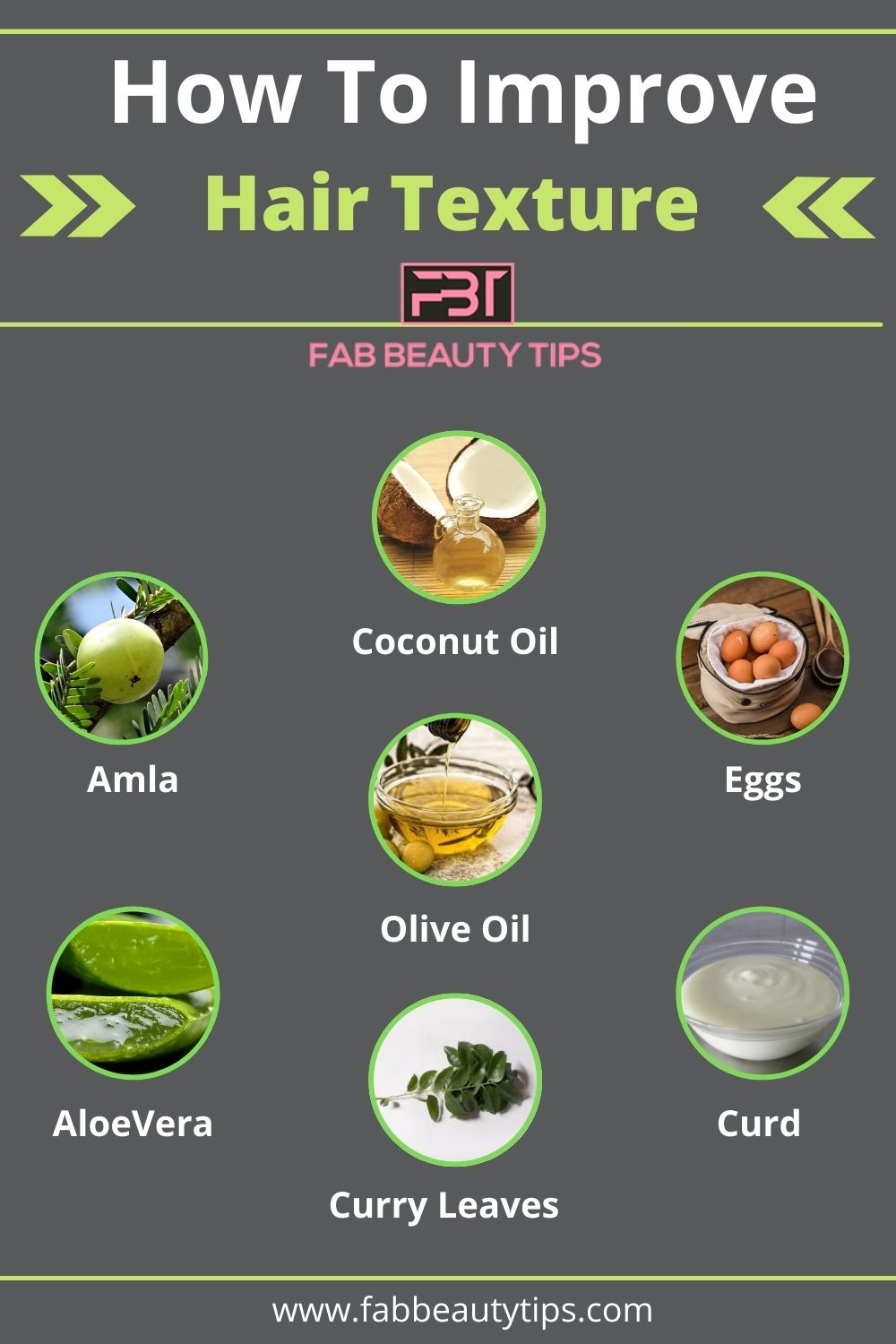 ---
Disclaimer: Please note that This article is for informational purposes only and does not constitute medical advice. The information provided above is not a substitute for any professional medical advice. We always suggest you talk to your doctor about the risks and benefits of any treatment.
Please follow and like us: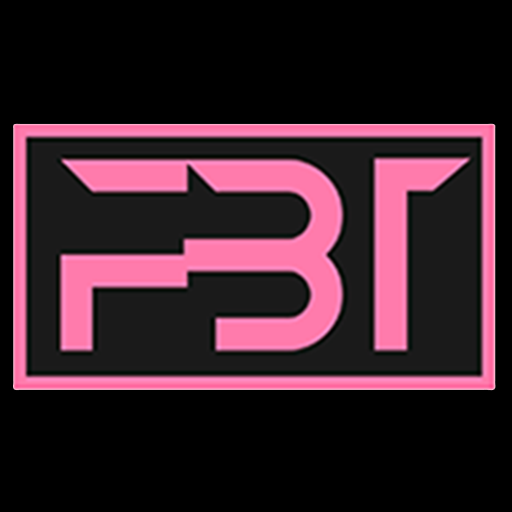 Hi, this is Team Fab Beauty Tips. We have a team of certified cosmetologist. It includes deep study about skin, hair, nails and makeup. Having a proper knowledge about these things inspired us a lot to share our knowledge with everyone. So that everyone can achieve there desired beautiful and trendy look.